Trade with confidence. Are you a professional trader? Be the first to get the alert with Benzinga Pro's real-time newsfeed and audio squawk and never miss an opportunity again.
Don't miss the chance to try it FREE today.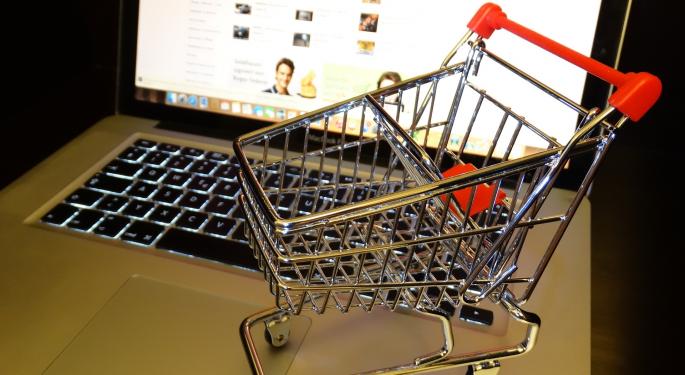 There are several exchange-traded funds dedicated to retail stocks. Typically, these ETFs mix traditional brick-and-mortar retailers with online retailers such as Amazon.com, Inc. AMZN 1.66%.
Given the ascent of online retailing major markets such as the United States and China, it was just a matter of time before an ETF dedicated to online retailers came to market. That happened Wednesday with the debut of the Amplify Online Retail ETF IBUY 0.41%. The new ETF follows the EQM Online Retail Index (IBUYXT).
New ETF To Keep Up With Retail Trends
The EQM Online Retail Index (IBUYXT) is a rules-based benchmark "comprised of a diverse group of companies that generate at least 70 percent of their revenue from online and virtual retail sales," according to a statement issued by Amplify.
IBUY has 44 holdings, none of which garner weights of more than four percent. Yes, Amazon is one of the new ETF's top 10 holdings, but the e-commerce giant is a surprising eighth in IBUY's lineup. That places Amazon behind the likes of Stamps.com Inc. STMP 3.47%, GrubHub Inc GRUB 1.5% and PayPal Holdings Inc PYPL 0.52%.
Consumer Discretionary Sector Volatility
Investors that are not familiar with the consumer discretionary sector, the group in which many retail stocks are classified, should note the sector is usually more volatile than the broader market.
"Consumer discretionary firms are more volatile than the broader market. During the past 10 years, this ETF has had a standard deviation of 18.4 percent compared with the S&P 500's 15.1 percent. That places this ETF between two large and competing consumer discretionary ETFs," said Morningstar in a recent note.
The ETF being reference in the previous paragraph is the Consumer Discretionary SPDR (ETF) XLY 0.2%, the largest discretionary ETF.
Still, it is hard to ignore the long-term growth trajectory of online retailing and that IBUY can capture some of that theme outside of the U.S. with an up to 25 percent exposure to ex-U.S. Stocks.
"The growth rate of online retail sales versus brick and mortar sales has been significant. IBUY offers a compelling opportunity for investors to capitalize on this trend," said Christian Magoon, founder and CEO of Amplify ETFs. "The portfolio holdings of IBUY may increase overall portfolio diversification for investors with traditional brick and mortar retail and consumer discretionary exposure."
IBUY charges 0.65 percent per year, or $65 for every $10,000 invested.
© 2016 Benzinga.com. Benzinga does not provide investment advice. All rights reserved.