Bruce Berkowitz has not exactly been a household name (he apparently is not even Wikipedia-worthy). With his boyish looks, nasally voice, and slicked-back hair, one might mistake Bruce Berkowitz for a graduate student. However, his results are more than academic, which explains why this invisible giant was recently named the equity fund manager of the decade by Morningstar, Inc. (NASDAQ:MORN). It's difficult to argue with long-term results, especially in the roller coaster market like we've experienced over the last ten years. The Fairholme Fund (FAIRX) fund earned a 13% annualized return over the ten-year period ending in 2009, beating the S&P 500 index by an impressive 14%.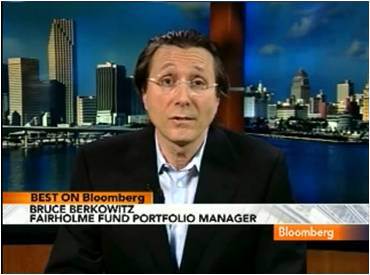 Click here to view Bloomberg invterview with Bruce Berkowitz
How He Did It
Berkowitz states the stellar performance was achieved by
"Ignoring the crowd and going towards stressed areas that many people are running from…We make our judgments based on the cash that securities generate."
Fairholme is effectively a "go anywhere" fund that adheres tightly to the value-based philosophy. Berkowitz's portfolio is centered on equity securities, but his team has also shown willingness to go up and down the capital structure, if...
More