OPXA is trading for less than cash on hand. It's time to buy.
Opexa Therapeutics, Inc. (NASDAQ: OPXA), a biopharmaceutical company developing personalized immunotherapies for autoimmune disorders including multiple sclerosis (MS) and neuromyelitis optica (NMO), today announced that its Board of Directors approved a 1-for-8 reverse stock split of its common stock which will become effective immediately following the close of trading September 28, 2015. The consolidated common shares will begin trading on a split-adjusted basis on September 29, 2015 on the NASDAQ Capital Market.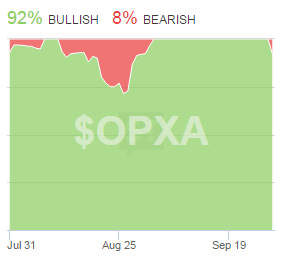 Opexa is a biopharmaceutical company developing a personalized immunotherapy with the potential to treat major illnesses, including multiple sclerosis (MS) as well as other autoimmune diseases such as neuromyelitis optica (NMO). These therapies are based on Opexa's proprietary T-cell technology. The Company's leading therapy candidate, Tcelna®, is a personalized T-cell immunotherapy that is in a Phase IIb clinical development program (the Abili-T trial) for the treatment of secondary progressive MS. Tcelna consists of myelin-reactive T-cells, which are expanded ex vivo from the patient's peripheral blood and reintroduced into the patient in an attenuated form via subcutaneous injections. This process triggers a potent immune response against specific subsets of autoreactive T-cells known to attack myelin for each individual patient.
For more information, visit the Opexa Therapeutics website at www.opexatherapeutics.com&index=1&md5=a98d26e7c8901c...">www.opexatherapeutics.com