Apple's share (NASDAQ:AAPL) has declined about 1% since the markets opened today. Is this a sign that investors are expecting less than stellar earnings. Investors expect weak sales on the iPad this quarter. There is talk, however, that Apple may release a new iPad next quarter.
Its clear from the companies reportings that Apple's growth is stabling off. Last year's first quarter, Apple had a 60% growth in revenue compared to this years 11% growth.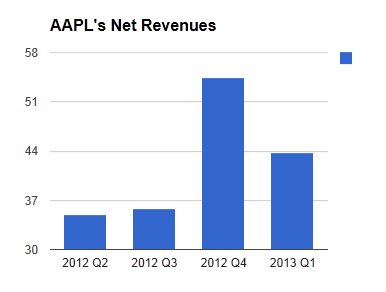 What's the good news, analysts expect that Apple would release several new products this fall such as the iWatch. There is also talk that they may be releasing a larger screen iPhone and iPad. Other analysts believe that they may release a lower cost iPhone.
So do you think Apple will manage to increase excitement by the end of the next quarter? And more importantly, do you believe it would be enough to keep the company growing?