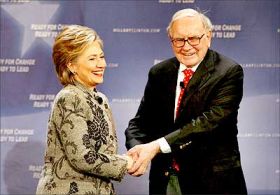 Speaking with Carol Loomis at the Fortune Most Powerful Women Summit on Tuesday in Laguna Niguel, California, Warren Buffett articulated his certainty that former Secretary of State Hillary Rodham Clinton will run for President in 2016.

"Hillary's gonna run", said Buffett who had supported both then-Senator Clinton and then-Senator Barack Obama in the 2008 Democratic primary. "The only time I've been a bigamist", said Buffett with a laugh.
Pressed by Loomis as to who he thought the Republican nominee will be, Buffett had no clear prediction but said he found it interesting that former Massachusetts Governor Mitt Romney, who lost the 2012 election to President Obama, was weighing a run. Asked by Loomis whether he thought that Romney would demure if former Florida Governor (and two-time First Family member) Jeb Bush launched a Presidential bid, Buffett didn't seem convinced. Anybody will run "once they have the political bug" so long as they think they can raise the money for a campaign and win. "Call it 'Buffett's Law'", quipped the twentieth century's most successful investor.
On the ultimate outcome, however, Buffet had little doubt. "Hillary's gonna win", he said.