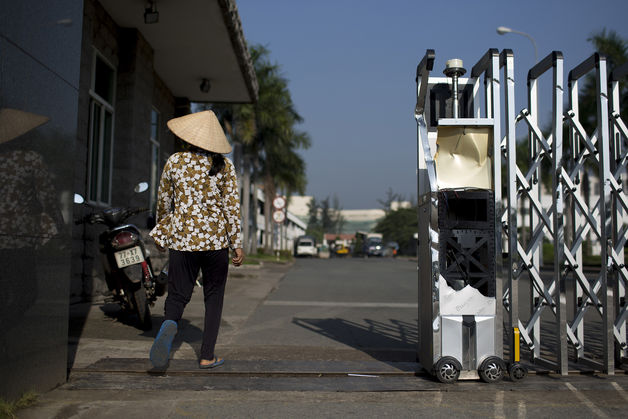 Photographer: Brent Lewin/Bloomberg
A worker enters a factory site at the Vietnam-Singapore Industrial Park in Thuan An
Do Thi Hien points to about two dozen sewing machines lined up on one side of her apparel workshop near Hanoi's Red River. They have been gathering dust as she tried to get a loan to increase output for exports.
"I've knocked on the doors of four banks already this year and I still can't get a loan," Hien, 42, said. "They're only prepared to lend at high interest rates."
Hien's factory is among thousands in the country that have cut production or shut down as one of the highest levels of bad debt among Southeast Asia's biggest economies damps lending. Government efforts to clean up banks have failed to reinvigorate the credit growth local companies rely on, threatening their ability to supply the Japanese and Chinese manufacturers who are turning to Vietnam as a production center.
"In Vietnam, economic growth relies on bank credit," said Alan Pham, Ho Chi Minh City-based chief economist at VinaCapital Group, the nation's biggest fund manager. "Credit growth has been slow on low absorption capacity of businesses and reluctance of banks to give new loans due to concern over non-performing loans. Government should address both issues."
Vietnam's gross domestic product probably increased 5.4 percent in the nine months through September from a year earlier, according to the median estimate in a Bloomberg survey ahead of data due tomorrow. The government's full-year target is 5.8 percent for a seventh year of growth below 7 percent, the longest such stretch according to International Monetary Fund records going back to the 1980s, when the nation embarked on "Doi Moi" market opening.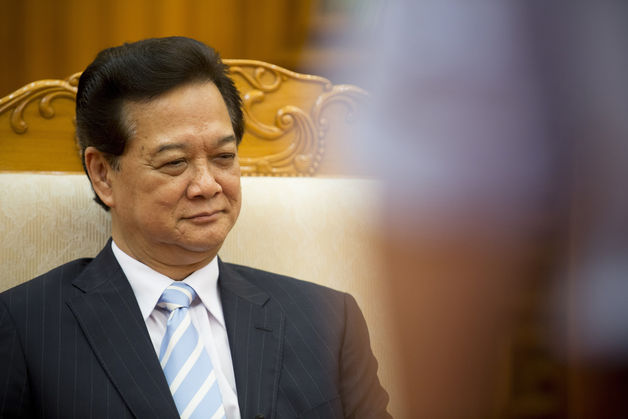 Samsung, Intel
In recent years, manufacturers including Samsung Electronics Co., LG Electronics Inc., Nokia Oyj and Intel Corp. have set up operations in Vietnam as they looked for options to China. Disbursed foreign investment rose 3.2 percent in the nine months through September, withSouth Korea, Hong Kong and Japan the top investors in the country, data showed yesterday.
Even as foreign investment climbed, Vietnam's credit growth has lagged, rising 5.82 percent as of end-August, compared to 6.44 percent in the same period last year. The government's target this year is 12 percent to 14 percent, and Prime Minister Nguyen Tan Dung has repeatedly asked the monetary authority to get banks to lend more and at lower rates.
A lack of trust between businesses and banks contributed to slow credit growth, Governor Nguyen Van Binh said this week. The central bank plans to introduce a pilot for unsecured loans for some firms to spur lending, Thanh Nien newspaper reported.
Even with these measures, "bank lending is still dominated by state-owned enterprises," said Eugenia Fabon Victorino, a Singapore-based economist at Australia & New Zealand Banking Group Ltd. That's "depriving small and medium enterprises of the needed capital boost."
Plastic Molds
"It's still very hard to get loans," said Tran Vuong, who owns a manufacturing unit in Bac Ninh near Hanoi that supplies plastic molds to Canon Inc. "Improving our product quality and selling to foreign firms is the only way to grow. We need the government to do more to help us get loans."
It is a far cry from a lending rate of 51 percent in 2007, which fueled inflation of as much as 28 percent in 2008, among the fastest in the world. The central bank then acted to limit credit growth to curb price gains, even as the economy slowed.
The government set up an asset management company to clear bad debt, while the central bank cut interest rates and devalued the dong this year to help businesses and spur growth. Vietnam also reduced the corporate tax for some firms and extended incentives for foreign manufacturers.
Even so, the number of business closures increased 13 percent in the eight months through August from the same period a year earlier, government data showed. The number of new companies registered dropped 10 percent.
Growth Constraint
The benchmark VN Index (VNINDEX) fell 0.6 percent at the morning break, heading for a ninth day of declines. The dong was little changed at 21,220 against the dollar as of 11:50 a.m. in Hanoi.
The ratio of bad debt at banks rose to 4.17 percent as of end-June, according to the monetary authority. It may be "substantially higher" because of a lack of consistent classifications and reporting standards for banks, Standard & Poor's said in a report July 15. Moody's Investors Service earlier this year estimated it to be at least 15 percent.
The Vietnam asset management company has bought more than 58 trillion dong ($2.7 billion) of bad debt as of end-August, according to VAMC Chairman Nguyen Quoc Hung. The slow pace of purchases and the lack of a schedule for sale and allowing foreign investors to participate remains a concern and is limiting credit growth, Pham said.
Forecasts Cut
"Credit can safely grow at about 10-12 percent, which is sufficient to finance necessary business transactions, and not too much as to cause inflation," Pham said. "Expansion less than that range can act as a constraint on economic activities and GDP growth."
The Asian Development Bank today cut its forecast for Vietnam's GDP growth this year to 5.5 percent from an earlier estimate of 5.6 percent. It lowered its estimate for next year to 5.7 percent from 5.8 percent.
While slow lending growth has hurt domestic demand, overseas sales have been a bright spot, rising 15 percent last year and forecast to climb 11 percent in 2014. The outlook for some exporters like Hien, the apparel maker, is weaker.
"Some banks asked to see my export contract as a condition for loans," said Hien. "But how can I sign contracts with foreign buyers when I don't know if I can get money to increase my production in the first place."