Fiat Chrysler Automobiles N.V. (NYSE: FCAU) owns some of the world's great auto brands: Dodge, Fiat, Jeep, Ram Trucks, and Chrysler all fall under its umbrella. Tesla (NASDAQ: TSLA), headed by the one and only Elon Musk, is the maker of the all-electric Model S, Model X, and the now-arriving Model 3. One is a massive organization with a long and storied history; the other was created in 2003 to accelerate the shift from internal combustion to electric cars. 
Both are admirable companies in their own right. But to determine which is the better investment now, let's break down how they compare across a few key categories.
Recent share-price performance and valuation
Both stocks have been on a tear this year. However, it may surprise many to learn that after lagging through the summer, Fiat Chrysler's share price gains have actually left Tesla's behind: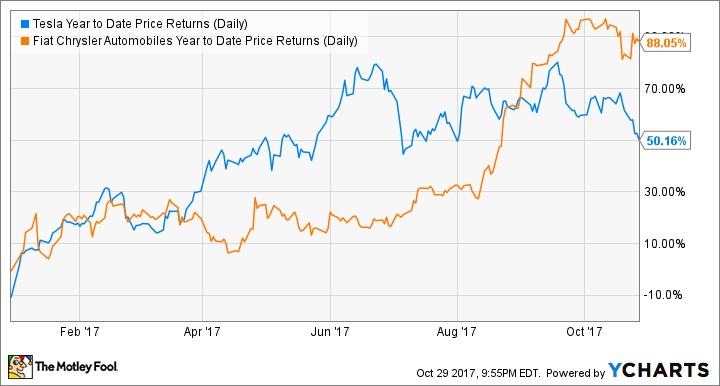 TSLA Year to Date Price Returns (Daily) data by YCharts.
The reasons behind each company's price action could not be more different. Tesla continues to benefit from its status as the electric-car market leader in the U.S. The release of its first mass-market car, the Model 3, is underway, although the pace of deliveries has been slower than planned.
Fiat Chrysler, on the other hand, has been a turnaround story. Profit in 2016 came in at 1.814 billion euros, up from 377 million euros in the previous year. CEO Sergio Marchionne has worked to cut costs, streamline operations, and focus on profitable lines such as Ram Trucks. Fiat's Q3 2017 results served as proof that the plan is working. Net profit surged 50% year over year to 910 million euros. Management also confirmed fiscal-year 2017 revenue expectations of 115 billion euros to 120 billion euros and a full-year adjusted net profit of over 3 billion euros. Marchionne has been so successful that the company has attracted interest from potential acquirers.
The differences between the two companies don't stop there. Despite Fiat's share price appreciation this year, it continues to trade at a far more reasonable valuation than Tesla: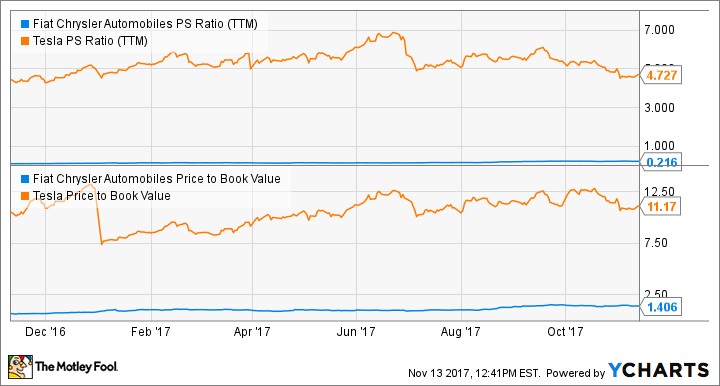 FCAU PS Ratio (TTM) data by YCharts
We are unable to make earnings-based comparisons between the two stocks, because Tesla is losing money, and seems likely to continue to do so for some time. The better company in this category is clear:
Winner: Fiat Chrysler.
Dividends and financing moves
Tesla, which pays no dividend, has had to issue billions in new shares and debt in order to fund its enormous capital costs.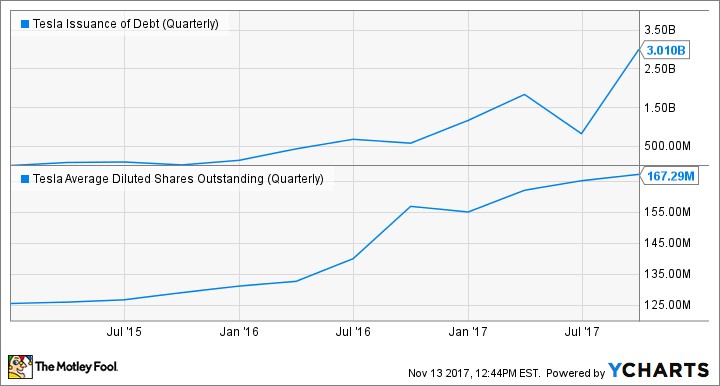 TSLA Issuance of Debt (Quarterly) data by YCharts.
This makes sense -- Tesla is a younger company and there are few things more capital-intensive than automotive manufacturing. 
This is not to say that Fiat Chrysler is the hands-down winner in this category. It doesn't pay a dividend either. And its net industrial debt is a risk -- particularly if there is an economic downturn. However, thanks to management's efforts, the company projects that net industrial debt will be below 2.5 billion euros by the end of fiscal year 2017. 
All in all, there is no telling how much new stock Musk may need to issue to fund Tesla's future. So we have to give this one to... 
Winner: Fiat Chrysler.

Growth prospects and risks
This is where things get interesting.
Tesla might appear to be the obvious growth stock, but Fiat Chrysler has more than a few tricks up its sleeve. Fiat is currently operating under a five-year growth plan that aims to drive vehicle sales up 60% over the 2014 to 2018 period, to 7 million cars annually, by building upon popular brands like Jeep and Alfa Romeo as well as its Ram truck line. All these initiatives are a means increasing net profits five-fold from their 2013 level to around €5 billion.
Fiat Chrysler is also constantly evaluating strategic alternatives for its many car brands. It successfully spun off Ferrari N.V. in 2015 and the eventual independence of car brands like Maserati are a strong possibility. At the right price, moves like this are hugely beneficial, as they free up capital for the expansion of its other brands. 
Tesla, with a current market capitalization of $53 billion compared to Fiat's $27 billion, hopes to sell 1 million automobiles by 2020 and will (hopefully) be profitable by then. And while this is obviously deflating for believers in Tesla stock, Tesla has one advantage in this competition -- optionality. It is admired, rightly, as a true innovator. Its expenses are not simply related to manufacturing cars, but to building the charging networks, solar roofs, and energy-storage systems of tomorrow.
However, despite Tesla's growth-stock chops, there are risks. It doesn't have the ability to fund its R&D costs on its own. Last year, Fiat Chrysler spent 1.66 billion euros on research and development. Yet it was still able to generate a 1.81 billion euro profit for 2016. Worse, Tesla's success has spurred Fiat Chrysler to announce a partnership in August to join BMW, Delphi Automotive, Mobileye, and Intel to develop rival driverless vehicles.
Fiat Chrysler's growth initiatives, and the risks associated with Tesla's goals, mean that we have to give this one to Fiat once again.
Winner: Fiat Chrysler.
And the winner is...
Believe it or not, Fiat Chrysler has swept Tesla. There are risks involved in investing in either company, to be sure. Fiat's debt situation could be a bit better. And Tesla's success may well come at a heavy cost to Fiat should millions of car buyers quit buying Dodges in favor of Model 3s. However, Fiat Chrysler's reasonable valuation, growth initiatives, and proven business make it the better buy here. 
10 stocks we like better than Fiat Chrysler Automobiles
When investing geniuses David and Tom Gardner have a stock tip, it can pay to listen. After all, the newsletter they have run for over a decade, Motley Fool Stock Advisor, has tripled the market.*
David and Tom just revealed what they believe are the 10 best stocks for investors to buy right now... and Fiat Chrysler Automobiles wasn't one of them! That's right -- they think these 10 stocks are even better buys.
Click here to learn about these picks!
*Stock Advisor returns as of October 9, 2017
Sean O'Reilly has no position in any of the stocks mentioned. The Motley Fool owns shares of and recommends Tesla. The Motley Fool recommends Intel. The Motley Fool has a disclosure policy.