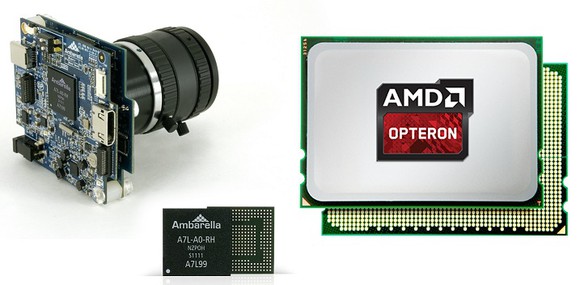 Of all the chip stocks our market has to offer, arguably no two well-known names could be in quite as different a position as video processing chip specialist Ambarella (NASDAQ:AMBA) and graphics chip company Advanced Micro Devices (NASDAQ:AMD). But these two companies also have more in common than you might think.
But before we get there, I can't help wondering: Which is the better buy today?
Has Ambarella hit bottom?
On one hand, Ambarella stock has fallen nearly 50% over the past year and sits more than 70% below its 52-week-high, given ongoing weakness in its core wearable-camera segment. Most recently, Ambarella shares plunged more than 7% in a single day last week, after key customer GoPro (NASDAQ:GPRO) told investors that revenue in its most recent quarter declined a whopping 49.5% from the same year-ago period. Putting aside the fact that the decline was better than GoPro expected, Ambarella's guilt by association seemed fair enough at first glance; GoPro has previously represented as much as 30% of Ambarella's total revenue, so it stands to reason that Ambarella should continue to suffer as long as the action camera maker's sales remain depressed.
As I researched the biggest threats to Ambarella for an article last month, however, I realized this concern might prove unfounded. Recall, for example, that during its most recent earnings conference call two months ago, Ambarella management revealed that GoPro's high inventories had already caused demand from GoPro to decline to the low-single-digit range as a percentage of overall revenue. As a result, Ambarella opted to take a conservative approach in accounting for wearables revenue in issuing guidance -- which calls for revenue to decline in the range of 24% to 20% year over year for the current quarter -- despite what management described as "strong sales" from supplemental markets, including IP security, automotive aftermarket, home monitoring, and flying cameras.
For perspective, that disappointing guidance was the primary reason...
More