Gulf Arab stocks climbed after oil, the region's main source of income, rebounded to the highest level this year.
Saudi Arabia's Tadawul All Share Index advanced the most in more than three weeks to lead regional gains. Dubai's DFM General Index rose 1.4 percent to the strongest finish since November. The gauge breached its 50 percent Fibonacci level, which shows what percentage of a loss a security has recovered from a low to a high, a sign the rally may continue. The Bloomberg GCC 200 Index, which tracks the biggest and most liquid stocks in the six-nation Gulf Cooperation Council, increased 0.6 percent, gaining for a third day.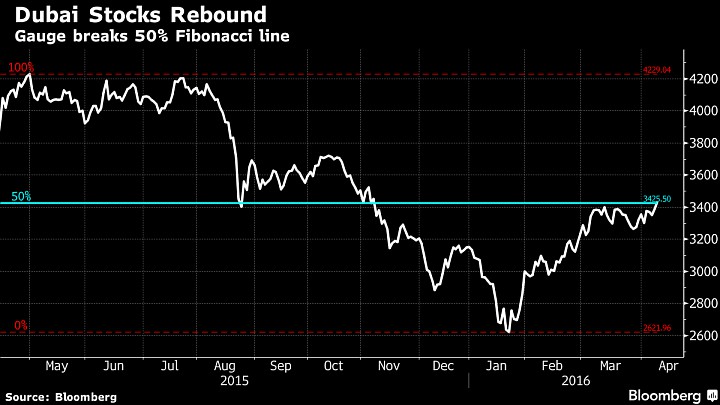 Investor confidence in the region has been building after oil, which funds the bulk of government spending, recovered from the lowest in more than a decade. While countries including Saudi Arabia are seeking to diversify their economies away from crude, growth remains largely driven by energy income. The kingdom, which halted payments to contractors as it slashed spending amid oil's slump, said it will pay almost all of its outstanding dues.
"The Saudi government's announcement that it's settling some debts to construction contractors should benefit Emirati companies operating in the kingdom," said Nabil Farhat, an Abu Dhabi-based partner at Al Fajr Securities. That, along with oil's bounce, is driving the rally, he said.
Dubai Contractors
Brent crude, a benchmark for half the world's oil, surged 6.4 percent on Friday to $41.94 per barrel as U.S. crude production slid for the 10th time in 11 weeks through April 1, according to data from the Energy Information Administration on Wednesday.
Dubai's gauge is less than 10 points away from its 200-day moving average, which it hasn't traded above since August. Drake &...
More