Submitted by Lance Roberts via STA Wealth Management,
This past week has seen a continuation of market volatility unlike anything witnessed over the last several years. Of course, this volatility all coincides at a time where market participants are struggling with a global economic slowdown, pressures from China, collapsing oil prices, a lack of liquidity from the Federal Reserve and the threat of rising interest rates.  It is a brew of ingredients that would have already likely toppled previous bull markets, and it is only by a hairsbreadth the current one continues to breathe.
However, as I addressed yesterday:
"Since the 'debt ceiling debt default' crisis in 2011, the markets have traded within a much defined bullish trend.

 

That trend was decisively broken this summer, and the market has yet to regain its footing. While the market 'bulls' expect the markets to recover and move back to all-time highs, there is also a possibility of failure that should not be ignored."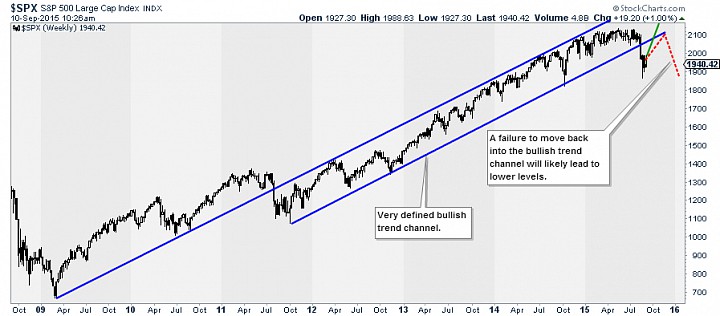 "If the market rallies back to the bullish trend channel, and fails, it will likely lead to a continuation of the current correction.

 

Could the market re-establish a new bullish trend channel at a lower level? Yes. However, as discussed in Tuesday's missive, the internal deterioration in the market is more consistent with the development of more major bull market peaks rather than just a correction within a bullish trend. 

 

In every market cycle throughout history, there have been times where it was vastly more beneficial to "err to the side of caution.

 

This is very likely one of those times."
This weekend's reading list is dedicated to the views on the issues surrounding the current market environment and the Fed. While it is always more fun to root for a continuation of the bull market, it is a far different matter to bet on it and be wrong. 
---
THE LIST
1) Monetary Policy Lags – Fed Must Act Soon by Richard Fisher via The Financial Times
"Policymakers should focus on the direction of price changes over the medium term. This is easier said than done; you cannot be certain whether the latest inflation numbers reflect a long-running trend or a passing storm. The Fed tries to get around this by focusing on "core" inflation measures that leave out food and energy prices, which are volatile in the short term. The idea is to silence the noise in the inflation numbers, while leaving the signal.

 

But the Fed's favored measure does not do as good a job as it could; while less noisy than the headline inflation rate, it has also been persistently low. Over the past 10 years, looking only at data that would have been available to policymakers in real time, conventional core PCE inflation has averaged 1.65 per cent, nearly 30 basis points below headline inflation's 1.94 per cent average. Setting policy using this measure is like navigating using a compass: it has a systematic bias and is influenced by local anomalies in the earth's magnetic field."
Read Also: What Jackson Hole Missed On Inflation by Bob Eisenbeis via Cumberland Advisors
2) The Fed Is About To Unleash Deflation by Deutsche Bank via ZeroHedge
"Breaking down the breakeven and real yield components verifies that central bank liquidity has been more associated with real yields then breakevens, however the relationship is perverse! Real yields have tended to fall when balance sheet expansion is slowing while breakevens have generally been stickier. This suggests that risk assets drive (real) yields and that breakevens anticipate a (delayed) liquidity injection.

 

Right now the decline in Central Bank liquidity suggests 5y5y should be closer to 2 percent or below not 3 percent or above. And this is before the Fed has tightened and China has potentially 'finished' its adjustment."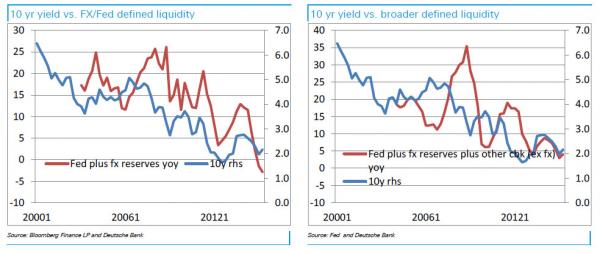 VIDEO: David Stockman: Why Fed Reserve Actions Will Have Disastrous Long-Term Consequences.
3) The Stock Market's Wake Up Call by Eric Nelson via Servo Wealth Management
"Until recently we had gone several years without a double-digit decline in US stocks.  For long-term investors, that length of time can lead to a false sense of security and entitlement—believing that stocks should always go up and they have a right to consistently-positive returns.  But that has never been the case; if it were, long-term historical and future returns wouldn't be as high as they have been or are expected to be.  The chart below looks at the periodic returns of stocks, bonds and balanced portfolios from 1928-2014, net of inflation."
Read Also: 5 Reasons The Markets Are Going Haywire by Matt Turner via Business Insider
4) The Stock Market Is In All-Or-Nothing Mode by Matt Egan via CNN Money
"Investors have been taken on a wild ride this summer that's been nearly unprecedented.

 

The craziness was punctuated by the Dow's 1,000-point nosedive on August 24, its largest intraday point decline on record.

 

But here's an even more telling sign of the swings: Bespoke Investment Group tracks "all or nothing days," which occur when at least 80% of the S&P 500 advances or declines. In other words, herd mentality drags nearly the entire market in one direction or the other.

 

During the 12 trading sessions between August 20 and September 4, there were eight all or nothing days, according to Bespoke. There have only been two other times since 1990 that there were as many all or nothing days in that short of a period. These events have been extremely rare."
Read Also: Use The Coming Stock Market Rally To Sell by Ken Goldberg via TheStreet.com
5) Baby, It's Cold Outside by Doug Kass via Kass' Korner
"As for Wall Street, baby it's really cold outside these days – and the market appears to me to have pneumonia. But it's not as if this brutal season came upon us without warning, as there were clear indications of a blizzard ahead… 

Market leadership was narrowing and breadth was deteriorating.

Transports, cyclical and industrials had already entered a bear market.
The price of numerous forward-economic-looking commodities (i.e.. copper and oil had plunged.
Volatility had exploded in many asset classes (stocks, bonds, currencies and commodities).
Signposts of slowing global economic growth were numerous, led by moderating growth in China, the current engine of worldwide growth.
Corporate profit-growth expectations were steadily eroding.
Credit spreads were widening.
Easy U.S. monetary policy was losing its impact, and inertia on our leaders' part was the mainstay of fiscal policy.
Malinvestment and overvaluations were sprouting up in many different asset classes.
Despite all of these fundamental and technical faults, sentiment was unaffected and the "bull market in complacency" continued as valuations rose ever higher.
The chasm between financial asset prices and the real economy widened. "
Read Also: Where Is The S&P 500 Heading Now?by J C Parets via All-Star Charts
---
Other Reading
---
"Perhaps the foremost lesson which I have learned is that emotions rule the world, rather than statistics, information, or anything else." – Roger Babson
Have a great weekend.