Procter and Gamble (PG) has been bullish in 2016, but slid sharply in the past couple of weeks after shares tagged 90.00. PG started the week with continuing a bearish push that has already become a sign a bearish reversal.

The daily chart below shows price breaking below a flat support pivot and a rising trendline. 
But, the latest earnings report for PG could prevent the bearish outlook from extending.
Earnings: PG reported core earnings of $1.03 per share, beating our consensus estimate of 98 cents/share. Investors should note that these figures take out stock option expenses.

Revenues: PG reported revenues of $16.52 billion, marginally beating our consensus estimate of $16.46 billion.

Key Stats to Note: Organically, excluding the impact of acquisitions, divestitures and foreign exchange, revenues grew 3% on higher volumes. Shipment volume gained 3%. Currency impact hurt sales by 3%.

Stock Price: PG stock was up 0.59% in the pre-market trading at the time of writing.
(Full article on zacks.com)
PG Daily Chart 10/25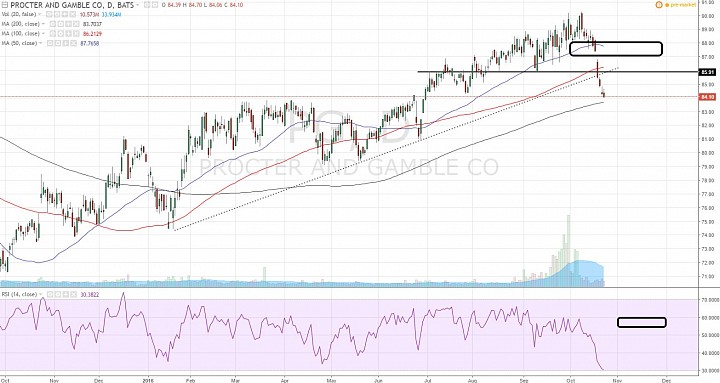 (click to enlarge)
Monitor for resistance under 88.00
- The better-than-expected earnings report provided a jolt for PG in pre-market trading. 
- We will see price above 86.00 at the open.
- Now, I am looking at the price top, which ranged roughly between 86 and 90. 
- The middle of that zone is around 88.
- If price pushes above 88.00, PG would probably be in a bullish continuation mode. 
- If it holds under 88 on the other hand, PG is probably still in a bearish correction, or consolidation mode. 
- Also, if the RSI holds under 60, we can have more confidence that the bearish momentum is going to continue. Otherwise, we should look at the market as flat or back to bullish.