Last year, a revelation that Valeant Pharmaceuticals (VRX) used specialty pharmacy Philidor Rx Services to sell drugs at high costs changed the drug market forever. Valeant's management paid a steep price, but as the company attempts to turnaround its business,the public focus moved on. Mylan is now the poster child for charging exorbitant prices for EpiPen. 
EpiPen is $600 a pop: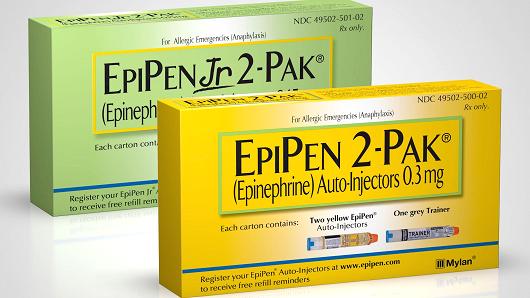 Sadly, the main ingredient, epinephrine, has been off patent for years. With pressure escalating for Mylan (MYL) to cut prices, the controversy is either a nightmare or opportunity for the drug company.
Ahead of searches and mentions for EpiPen + generic online, Mylan's stock fell on news the U.S. senator Chuck Grassley asked why EpiPen prices kept going up.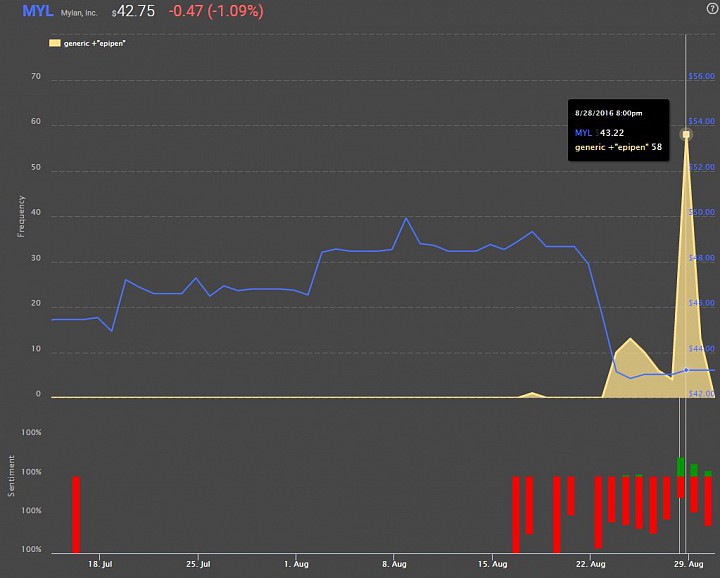 Source: https://www.tickertags.com
Since the drop, Mylan's stock has yet to bottom. The stock is a falling knife. At just 6 percent above yearly lows, chances are good the extreme negative sentiment for Mylan's EpiPen will drive the stock lower. Value investors will like the company's healthy $11.94 per share of cash. The stock also trades at just 2x book value. The deep discount does not come free. Mylan is looking at a severe drop in profit margins for the EpiPen product. In the second quarter, EpiPen helped the specialty division grow 33 percent:
"Our Specialty division delivered revenue of $403 million in the quarter, a year-over-year increase of 33%, as a result of higher sales of EpiPen, Perforomist, and ULTIVA."
(source)
Mylan has hundreds of product launches ahead, but it will not add meaningfully to revenue in the near-term.
At $39.97, Mylan's stock is very cheap, at 6.84x forward earnings. The company will likely cut earnings guidance, boosting the price multiples.
Biotech investors clearly have better opportunities.
More biotech ideas: