Orexigen (OREX) is having a good month of June. Judicial developments imply a negative outcome in the infringement case of Orexigen against Actavis. On June 8, the Court sided in favor of Orexigen and Takeda:
"In a Markman ruling, also known as a claim construction ruling, the Court determines the meaning of disputed patent claim terms at issue in patent litigation. The Markman hearing for the Actavis litigation was held onMay 24, 2016. In aJune 6, 2016 Markman ruling, JudgeRichard G. Andrews adopted Orexigen's proposed constructions for the majority of the disputed claim terms."

This is a significant win. The drug provides an alternative to Actavis' amphetamine and phentermine.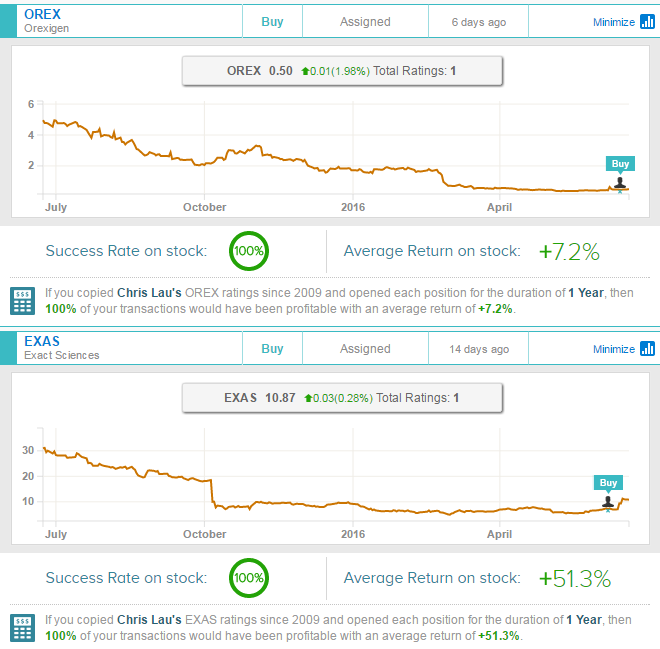 Above: TipRanks. View all picks and returns for free. $29.95/month value.
There are still risks. Weak sales are disheartening. Europe is still on hold.
Markets recognize the demand growth for Colonoguard. Investors sold Exact Sciences (EXAS) when the stock peaked at $30 for no reason. At the single digit levels, investors ignored Cologuard's validity as a test for colon cancer. If key wording changes in the HER result in reimbursement, revenue for Exact Sciences will soar.
The question is not on the efficacy of Cologuard and a colonoscopy. Its importance is patients taking the test, especially if they refuse a colonoscopy.