Dicks Sporting Goods Inc. (DKS) has been having somewhat of an off year, although it should be noted that it was fading from an all-time high around 60. The weekly chart shows that despite the new high, the price action since 2012 has been mostly sideways. Many chartists would say that there has been an expanded flat consolidation. 
Dicks Sporting Goods Inc (DKS)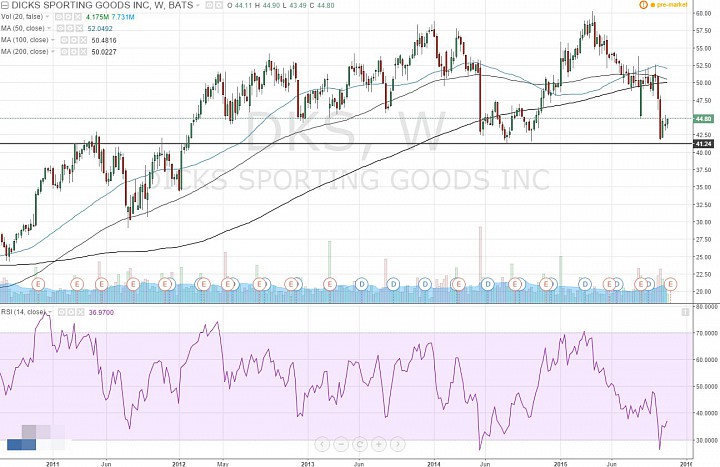 (click to enlarge)
Other chartists would see a double top, especially in the monthly chart. This scenario sets up for a bearish outlook at least towards the 30 area. 
DKS Monthly Chart 11/11


(click to enlarge)
To me, both scenarios are live. But I prefer the bullish one because the prevailing trend has been bullish. The weekly chart showed some support above 41.25. Now, there is upside risk towards the 58-60 highs, based on the prevailing trend since 2003. However, if price fails to climb back above 52, we might indeed be stuck in a period of consolidation and possibly a bit of bearish correction. In the bearish correction scenario, I would still limit the bearish outlook to the 36 area with attention on the 40.00 handle as well. 
So, if you are bearish, it might not be a good idea to sell at the moment at support. But price can break below 41 and climbs back towards the 50-52 area, the reward to risk for shorting will be better. On the other hand, if you stick with the long-term trend, the 36 and 40 levels are possible support pivots to watch for.