Akorn is another company that will report its earnings after the closing bell. As far as biotech market is super volatile over the last several months, I'm pretty sure that Akorn earnings is the most anticipated earnings call today. What we have right now: delayed earnings, the company beats two earnings estimates in a row, exceeding the analysts estimates significantly (more than 10%), 5 buy recommendations and high numbers in their own outlook.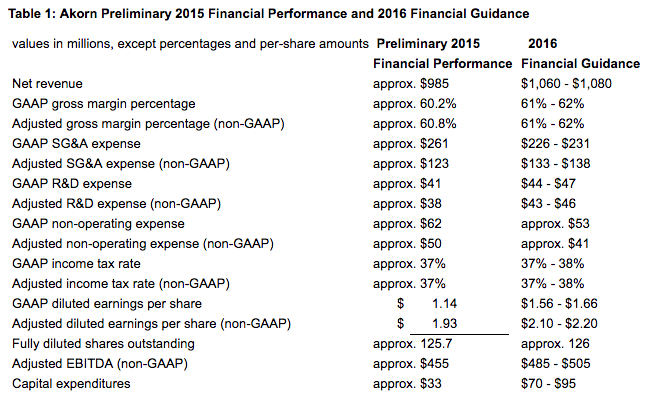 Their EBITDA margin looks definitely very fruitful: almost 50% even for the biotech company is a lot. They have $1 billion in long-term debt which is not that bad, 1x revenue or 2x EBITDA, other companies such as VRX have a higher leverage ratio. 
Analysts are waiting for slightly lower revenue for this quarter:
So, to be honest, I don't want to give any recommendation before the earnings, I just think that the company will have a higher than usual volatility after the earnings. Perhaps some options traders here could come up with an option strategy for them. I'd better take a look at their earnings and then make some steps. The stock is up 5% ahead of its earnings.
UPD - Q1 2016 GAAP Revenue of $268 million vs 267.56 estimate. GAAP EPS of $0.34; Adjusted Q1 2016 EPS of $0.54 vs $0.54 consensus. ABSOLUTELY INLINE.