NXP Semiconductors NV NXPI reported second-quarter 2017 earnings of 14 cents per share, which improved significantly from a loss of 4 cents per share reported in the year-ago quarter.
Notably, similar to the first quarter, NXP Semiconductors didn't provide much detail about the latest quarterly performance, as well as guidance for the forthcoming quarter due to its pending acquisition by QUALCOMM Incorporated QCOM.
Quarter Details
NXP Semiconductors' revenues declined 6.9% year over year to $2.202 billion, chiefly due to loss of revenues resulting from the divestment of its Standard Products business in early February. However, quarterly revenues surpassed the Zacks Consensus Estimate of $2.188 billion.
NXP Semiconductors' reported gross margin expanded 270 basis points (bps) year over year to 49.2%, primarily due to lower cost of sales. Non-GAAP gross profit margin during the quarter was 53% compared with 50% reported in the year-ago quarter.
The company's operating margin came in at 2.3% during the quarter, marking a 340 bps improvement from the year-ago quarter's negative operating margin of 1.1%. The improvement was primarily due to the one-time gain related to the divestment of Standard Products.
On a non-GAAP basis, operating margin was 28.4% compared with 25.6% reported in the year-ago period. The increase was mainly due to lower operating expenses as a percentage of revenues and higher gross margin. Non-GAAP operating expenses, as a percentage of revenues, decreased to 29.2% from 29.6% reported in the year-ago quarter.
The company's reported net income attributable to shareholders was $49 million against net loss of $13 million in the year-ago quarter.
NXP Semiconductors N.V. Price, Consensus and EPS Surprise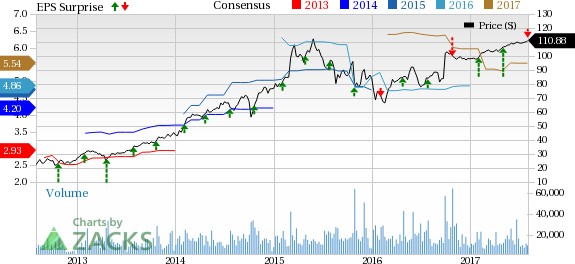 NXP Semiconductors N.V. Price, Consensus and EPS Surprise | NXP Semiconductors N.V. Quote
NXP Semiconductors exited the quarter with cash and cash equivalents of approximately $2.642 billion compared with $2.238 billion at the end of first quarter. Receivables were $915 million at the end of the quarter compared with $983 million reported in the previous quarter. The company's balance sheet has long-term debt of $5.790 billion compared with $6.498 billion at the end of the previous quarter.
NXP Semiconductors generated cash flow from operations of $625 million during the quarter. Free cash flow was $345 million. During the quarter, NXP Semiconductors repurchased approximately 0.96 million shares for $10 million.
Our Take
NXP Semiconductors, a global semiconductor company, is known for its automotive and chip identification business and has seen massive growth in the portable device segment in the last one year. Continued strong adoption of tablets and smartphones, automotive electronics and the emergence of the new category of wearables provided a boost to the demand for processing and sensing devices that run them.
Nonetheless, macroeconomic weakness, competition from Xilinx Inc. XLNX and Lattice Semiconductor Corp., consolidation in the telecom market and volatility in the semiconductor market remain headwinds.
Currently, NXP Semiconductor carries a Zacks Rank #4 (Sell).
Notably, in the last one year the stock has returned 13.1%, underperforming the industry's gain of 14.2%.

A promising stock in the same industry space is MaxLinear, Inc MXL, which sports a Zacks Rank #1 (Strong Buy). You can see the complete list of today's Zacks #1 Rank stocks here.
MaxLinear has long-term expected earnings growth rate of 17.5%.
More Stock News: Tech Opportunity Worth $386 Billion in 2017
From driverless cars to artificial intelligence, we've seen an unsurpassed growth of high-tech products in recent months. Yesterday's science-fiction is becoming today's reality. Despite all the innovation, there is a single component no tech company can survive without. Demand for this critical device will reach $387 billion this year alone, and it's likely to grow even faster in the future.
Zacks has released a brand-new Special Report to help you take advantage of this exciting investment opportunity. Most importantly, it reveals 4 stocks with massive profit potential. See these stocks now>>
Want the latest recommendations from Zacks Investment Research? Today, you can download 7 Best Stocks for the Next 30 Days.
Click to get this free report
QUALCOMM Incorporated (QCOM): Free Stock Analysis Report
MaxLinear, Inc (MXL): Free Stock Analysis Report
NXP Semiconductors N.V. (NXPI): Free Stock Analysis Report
Xilinx, Inc. (XLNX): Free Stock Analysis Report
To read this article on Zacks.com click here.
Zacks Investment Research