Amazon.com, Inc. AMZN announced the date of its third Prime Day on Jun 29. The event is slated for Jul 11 with deals beginning at 6pm PT/9pm ET on Jul 10 and available till 12 am PT/3am ET on Jul 12.
As usual, sellers and entrepreneurs from around the world will offer thousands of deals on items ranging from electronics, toys, household goods and apparels. This year the retail giant is giving Prime members 30 hours to shop instead of 24. The company is expanding the sale to 13 countries including the U.K., India, China, Germany and Mexico.
In 2016, Amazon outperformed the S&P 500 in the period between the announcement of Prime Day and the event itself. The stock returned 4.6% against the index's gain of 2.5%. We also note that the stock has returned roughly 29% from Prime Day 2016 to date compared with the index's gain of almost 12%.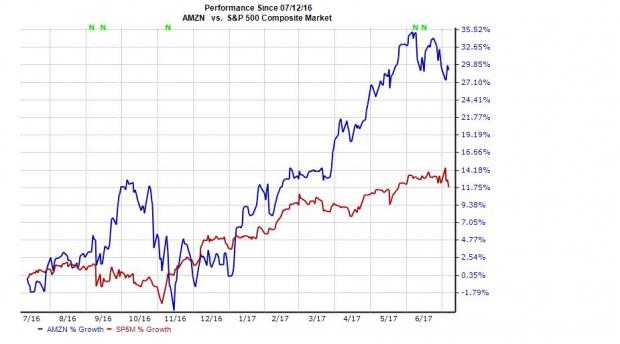 We expect this year's Prime Day to carry the momentum forward and bring good news to investors.
Apart from Amazon, some other retail heavyweights such as Wal-Mart WMT and Best Buy BBY are also expected to follow suit in the coming weeks.
Big Opportunity for Small Businesses
The number of sellers and small businesses participating in Prime Day 2016 globally grew more than 100% over 2015. Small businesses saw orders nearly triple year over year with shoppers ordering 20 million items from them across more than 50 categories.
Prime Day in 2016 saw orders surge 60% globally and 50% in the U.S. year over year. Amazon sold 20 times its normal daily sales and said it was the biggest single day sale ever.
Amazon.com, Inc. Revenue (TTM)
We can expect notable improvements to these numbers this year with more hours and countries included. This year, the retail giant expects participation from even more small businesses and entrepreneurs to benefit from the anticipated increase in traffic, new product launches and enhanced sales.
It expects small businesses and sellers to offer more than 40% Prime Day Lightning Deals worldwide which in turn is a 50% surge over last year.
The Interesting Part
This year, Amazon is allowing Prime members from Mexico and China to shop local as well as select deals from other countries through Amazon Global Store. The focus on Chinese customers and small businesses in the U.S. seems to be Amazon's answer to Alibaba's BABA increasing push to attract U.S. small businesses.
E-commerce, with a large user base worldwide, has turned out to be a sweet spot with more and more companies jumping on the bandwagon. Therefore, small businesses and entrepreneurs are increasingly gaining significance.
Bottom Line
Small businesses have been playing a vital role in boosting Amazon's sales and attracting more customers to Prime. The inclusion of more hours and countries into the game of discounts this year underscores Amazon's push to expand Prime internationally. This makes sense especially when Prime saturation is apparent in the U.S. due to increased penetration rates.
Amazon currently carries a Zacks Rank 4 (Sell).
You can see the complete list of today's Zacks #1 Rank (Strong Buy) stocks here.
Will You Make a Fortune on the Shift to Electric Cars?
Here's another stock idea to consider. Much like petroleum 150 years ago, lithium power may soon shake the world, creating millionaires and reshaping geo-politics. Soon electric vehicles (EVs) may be cheaper than gas guzzlers. Some are already reaching 265 miles on a single charge.
With battery prices plummeting and charging stations set to multiply, one company stands out as the #1 stock to buy according to Zacks research.
It's not the one you think.
Want the latest recommendations from Zacks Investment Research? Today, you can download 7 Best Stocks for the Next 30 Days.
Click to get this free report
Amazon.com, Inc. (AMZN): Free Stock Analysis Report
Alibaba Group Holding Limited (BABA): Free Stock Analysis Report
Best Buy Co., Inc. (BBY): Free Stock Analysis Report
Wal-Mart Stores, Inc. (WMT): Free Stock Analysis Report
To read this article on Zacks.com click here.
Zacks Investment Research