Following a string of weak economic news out of both Japan and the US, it was China's turn to disappoint which it did over the weekend with the worst fixed-asset investment data - the primary driver of China's GDP - since 2000, as well as yet another miss in Chinese industrial output, just the latest two indications that China's economy is grinding to a halt if not slamming into reverse.
The result: just like with Japan's latest dramatic economic deterioration, China's data was merely taken as yet another indication the PBOC will be forced to ease more in the coming days. As Reuters reported, "the data add to expectations that Beijing will respond with more measures to prop up the economy. "The numbers fit with our view that China will have to roll out more monetary easing," said Fumio Nakakubo, Japan CIO at UBS's wealth management division."
Because if it hasn't worked so far, it is only because not enough has been applied right?
That, however, may not work for Japan where there has been a resurgence in calls for more easing out of the BOJ although as we first noted last year, and as the IMF confirmed last week, the BOJ no longer can boost QE simply because there is nothing incremental it can buy. It also explains why Reuters reported earlier that "Bank of Japan policymakers are in no mood to expand monetary stimulus this week, sources familiar with their thinking say, even as poor data challenges their presumption that economic recovery will boost inflation to its 2 percent target next year."
There is still hope for an October rate hike, but just like September, the closer we get to the date, the more unlikely such a hike will "suddenly" become as even the BOJ is now officially out of QQE boosting ammo, and the best it can hope for is to last until 2017 without prematurely tapering.
And while the Shanghai Composite opened green only to turn red moments ago as doubt starts to creep in that someone, anyone will ease more...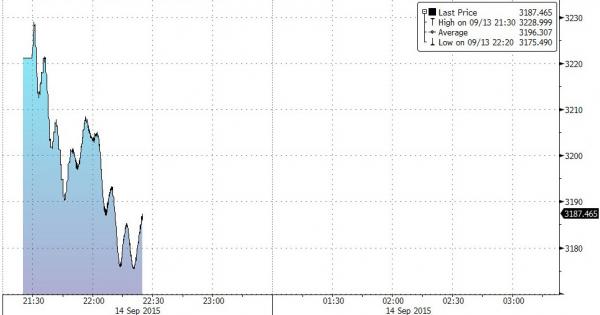 ... we don't expect much of a move from China. As the following chart shows, ever since the Chinese government killed trading in Chinese index futures last week, the "market" is anything but - and has literally flatlined as virtually nobody trades anymore. In other words, China has successfully CYNKed its entire stock market.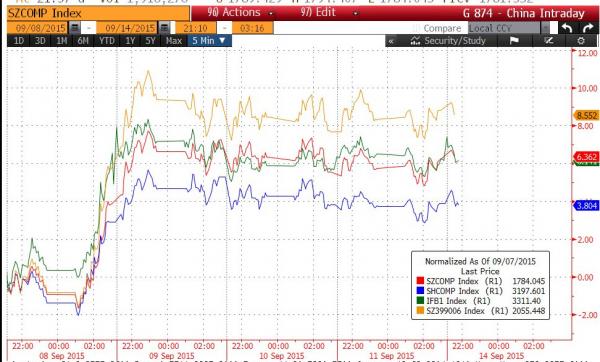 Earlier, the PBOC modestly raised the Yuan, pushing it higher by 0.02% to 6.3709, up from 6.3750, although even that move seems rather unremarkable by recent standards - as if even China is now waiting for the Fed.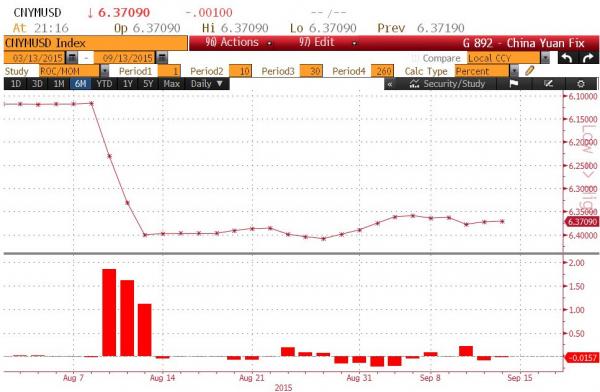 For now, US equity futures are higher on the day, rising by 9 point after being 14 points higher ealier, driven mostly by USDJPY correlation algos, and perhaps by Goldman's conviction that the Fed will not hike in September and may delay hiking until 2016 altogether.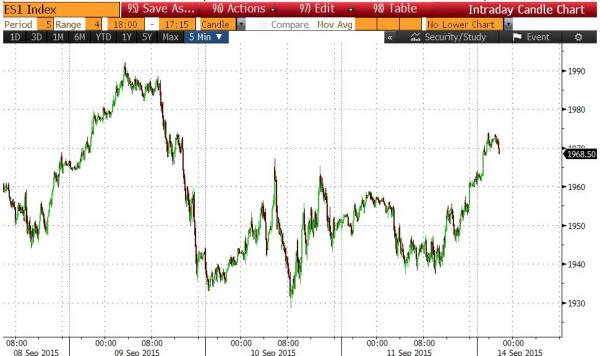 However, we expect this initial euphoria higher to fade momentarily, once the vacuum tubes realize that the catalyst of Friday's surge higher, namely Gartman's latest flipflopping is no longer on the table. As a reminder, this is how we paraphrased Dennis in "A Warning For The Bears: Gartman Goes Short S&P Futures, "Very Worried In Catholic Terms"
NEW RECOMMENDATION: we wish to sell the S&P futures short this morning, fearing that a major top hss developed and that the recent consolidation in the stock market is precisely that: a consolidation before the next leg downward.

 

We'll sell the S&P future short and will buy the December T-note at the same time, with the S&P trading 1933.00 as we write and with the Dec T-note future trading 127 ¼. We'll risk no more than 1.5% on either position and we look for the consolidation in the S&P to resolve itself sharply lower as discussed at length above.
Well, as of tonight, just 1 trading day after his latest reco, Gartman has been stopped out as his 1.5% limit was hit when futures rose above 1962 this evening.
So with Gartman no longer a 100% assured fade, the algos are now flying blind and anything is possible.
That said, for the real action we will just have to wait until Thursday when the Fed either proceeds with the first rate hike in 9 years or, far more likely, postponed once again... due to "risk management" considerations of course.