WTI has roller-coastered higher since last week's 'bullish' API report and rose today for the 6th of the last 7 days (on Saudi cut hype). While many eyes are on record high shale production, the recent trend in inventory draws remains key but API upset that dream briefly as Crude saw an unexpected build (+1.628mm vs -3.5mm exp). Gasoline and Distillates saw major draws (much bigger than expected) and Cushing saw its first build in 8 weeks.
API
Crude +1.628mm (-3.5mm exp)
Cushing +608k
Gasoline -5.448mm (-1.3mm exp)
Distillates -2.888mm
Big draws in crude, and Gasoline (and at Cushing) in the last few weeks have set the scene for some normalization but tonight's API data shows an awkward build in crude stockpiles (and at Cushing) even though Gasoline and Distillates saw big draws...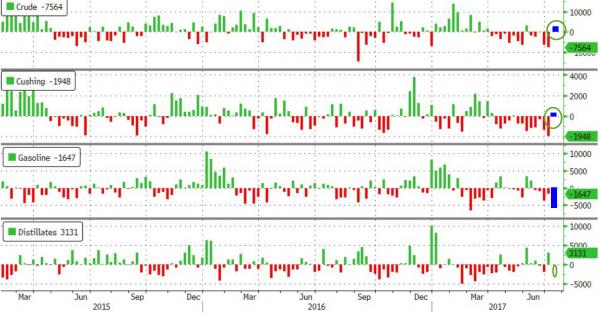 It's been quite a ride since last week's API data sparked buying (DOE production sparked selling, and OPEC jawboning did the rest)...(NOTE - for the second day in a ro WTI tagged $47 and fell). When the API data hit, the initial reaction was selling pressure...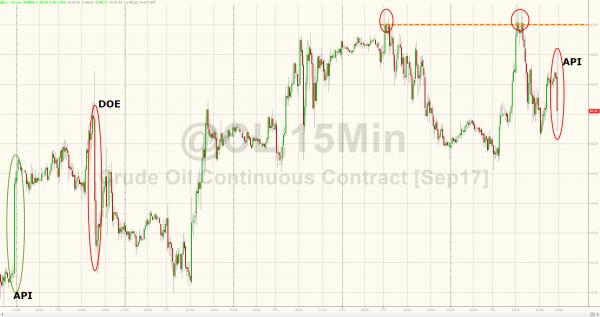 "The market is waiting for the proof in the pudding," Michael Loewen, a strategist at Scotiabank in Toronto, says by phone, "There's a lot of chatter these days. If Saudi Arabia is actually going to reduce exports" investors will need to see it in tanker-tracking data before they believe it, he says