Extra Space Storage Inc.'s EXR third-quarter 2017 funds from operations (FFO) as adjusted per share of $1.13 surpassed the Zacks Consensus Estimate of $1.10. The figure also came in 10.8% higher than $1.02 cents recorded in the prior-year quarter.
Results reflect growth in property rental revenues and improvement in same-store net operating income (NOI). Further, higher occupancy and rental rates supported growth.
Quarterly revenues of $284.2 million climbed 10.5% year over year and also outpaced the Zacks Consensus Estimate of $277 million.
Extra Space Storage Inc Price, Consensus and EPS Surprise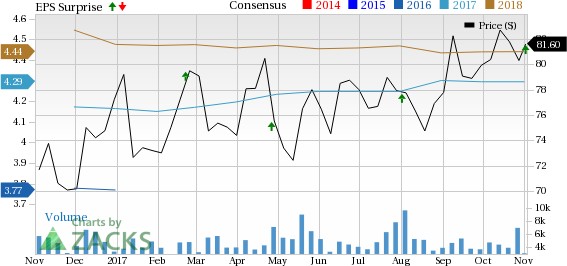 Extra Space Storage Inc Price, Consensus and EPS Surprise | Extra Space Storage Inc Quote
Note: The EPS numbers presented in the above chart represent funds from operations (FFO) per share.
Behind the Headlines
Same-store revenues were up 4.8% year over year to $220 million during the third quarter, while same-store NOI climbed 5.5% to $160.9 million. The increase in same-store revenues was driven by higher rental rates for both new and existing customers, as well as gains in occupancy. Same-store occupancy was 93.9% as of Sep 30, 2017, up 140 basis points from 92.5% as of Sep 30, 2016.
Notably, year to date Las Vegas, Los Angeles, Orlando and Sacramento were the major markets which recorded revenues growth above the company's portfolio average. However, markets which performed below the company's portfolio average included Boston, Dallas, Denver and Houston.
Portfolio Activity
Extra Space Storage acquired three operating stores and one store at completion of construction, for a total price of around $31.8 million. Also, the company purchased one Certificate of Occupancy store with a joint-venture partner for $8.8 million.
Notably, as of Sep 30, 2017, the company managed 485 stores for third-party owners. Moreover, with an additional 184 stores owned and operated in joint ventures, the company's total stores under management reached 669.
Balance Sheet

Extra Space Storage exited third-quarter 2017, with roughly $63.7 million of cash and cash equivalents, up from $43.9 million at the end of 2016. As of Sep 30, 2017, the company's percentage of fixed-rate debt to total debt was 80.8%.
In addition, the company had $349.4 million available for issuance under the ATM program as of Sep 30, 2017.
Outlook
Extra Space Storage revised its outlook for 2017. The company now anticipates FFO as adjusted per share in the band of $4.32-$4.35, against the prior guided range of $4.25-$4.32. The Zacks Consensus Estimate for the same is currently pegged at $4.30.
The company projects same-store property revenue growth of 4.5-5% and same-store property NOI growth of around 5.75-6.5% for the year.
In Conclusion
We are encouraged with the better-than-expected performance of Extra Space Storage in the third quarter. It has a high brand value. We are also impressed by the company's business expansion efforts which has led to an increase in its branded store count as well as stores managed for third-party owners.
Subsequently, the company has also made efforts to expand its footprint and fortify its position in core markets.
Extra Space Storage currently has a Zacks Rank #2 (Buy). You can see the complete list of today's Zacks #1 Rank (Strong Buy) stocks here.
The stock has gained 5.6% year to date, outperforming 4% growth registered by the industry.

We are now looking forward to the earnings releases of Lamar Advertising Company LAMR, EPR Properties EPR and Outfront Media Inc. OUT all of which are expected to report in the upcoming days.
Note: FFO, a widely used metric to gauge the performance of REITs, is obtained after adding depreciation and amortization and other non-cash expenses to net income.
Zacks' Best Private Investment Ideas

While we are happy to share many articles like this on the website, our best recommendations and most in-depth research are not available to the public.

Starting today, for the next month, you can follow all Zacks' private buys and sells in real time. Our experts cover all kinds of trades… from value to momentum . . . from stocks under $10 to ETF and option moves . . . from stocks that corporate insiders are buying up to companies that are about to report positive earnings surprises. You can even look inside exclusive portfolios that are normally closed to new investors.

Click here for Zacks' private trades >>
Want the latest recommendations from Zacks Investment Research? Today, you can download 7 Best Stocks for the Next 30 Days.
Click to get this free report
Lamar Advertising Company (LAMR): Free Stock Analysis Report
EPR Properties (EPR): Free Stock Analysis Report
Extra Space Storage Inc (EXR): Free Stock Analysis Report
OUTFRONT Media Inc. (OUT): Free Stock Analysis Report
To read this article on Zacks.com click here.
Zacks Investment Research