On Jul 3, Monsanto Company MON was downgraded to a Zacks Rank #3 (Hold) from a Zacks Rank #2 (Buy). Going by the Zacks model, Zacks Rank #3 companies are likely to perform in line with the broader market over the upcoming quarters.
Over the last three months, Monsanto's shares yielded 2.68%, outperforming 2.38% growth recorded by the Zacks categorized Agriculture - Products industry.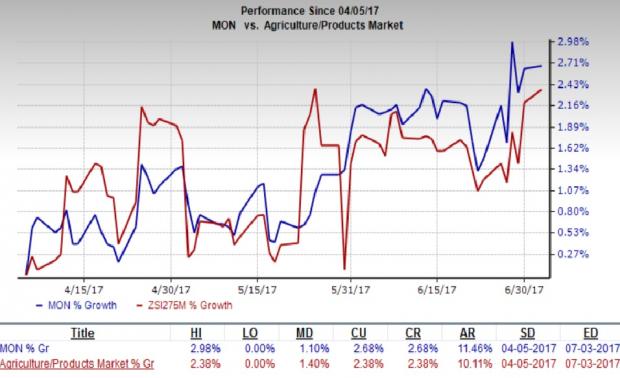 Reasons Behind the Downgrade
The weakening Brazilian Real has been hurting Monsanto's revenues and profitability in the country, of late. In fact, further depreciation of the currencies of major foreign markets would continue to dent the company's international business performance in the quarters ahead. Also, dismal agricultural products prices are weighing over its revenues and margins. Given that incomes of farmers are directly related to agro-product prices, lower prices are reducing farmers' income. This is adversely affecting their seed and chemical product purchasing decisions, thereby hurting Monsanto's business.
Moreover, headwinds such as stiff industry rivalry prevailing in the global seeds, traits and agricultural chemical industry, or adverse climatic conditions might hurt the company's near-term results.
However, solid demand for crop-yield enhancing products, such as Roundup Ready 2 Xtend Soybeans, is expected to bolster Monsanto's revenues, moving ahead. In addition, strong top-line performance, increased planted acreage, as well as lower U.S. corn and soybean costs are projected to drive earnings in the near term.
Also, the company is reinforcing its Climate FieldView platform, along with the seed and trait solutions portfolio, with numerous innovation investments. Furthermore, Monsanto's agreements with Broad Institute (inked in Sep 2016 and Jan 2017), Dow AgroSciences (inked in Oct 2016) and Advanced
Aerial Imagery Providers (inked on May 31, 2017) are anticipated to unlock advanced technological capabilities. These moves are likely to drive the company's performance in the quarters ahead.
Additionally, the successful accomplishment of Bayer AG's BAYRY buyout deal by the end of calendar year 2017 would likely open up a number of opportunities for its business.
Over the last 30 days, the Zacks Consensus Estimate for the stock moved north for fiscal 2017, but has been revised downward for fiscal 2018.
Stocks to Consider
A few better-ranked stocks in the industry are listed below:
The Chemours Company CC has an average positive earnings surprise of 39.82% for the trailing four quarters and currently carries a Zacks Rank #2 (Buy). You can see the complete list of today's Zacks #1 Rank (Strong Buy) stocks here.
Limoneira Co LMNR, which currently carries a Zacks Rank #2, pulled off an average positive earnings surprise of 14.74% over the last four quarters.
5 Trades Could Profit ""Big-League"" from Trump Policies
If the stocks above spark your interest, wait until you look into companies primed to make substantial gains from Washington's changing course.
Today Zacks reveals 5 tickers that could benefit from new trends like streamlined drug approvals, tariffs, lower taxes, higher interest rates, and spending surges in defense and infrastructure. See these buy recommendations now >>
Want the latest recommendations from Zacks Investment Research? Today, you can download 7 Best Stocks for the Next 30 Days.
Click to get this free report
Bayer AG (BAYRY): Free Stock Analysis Report
Chemours Company (The) (CC): Free Stock Analysis Report
Monsanto Company (MON): Free Stock Analysis Report
Limoneira Co (LMNR): Free Stock Analysis Report
To read this article on Zacks.com click here.
Zacks Investment Research