After two days of sharp intraday and vicious reversals, the BTFD algos are suspiciously missing overnight, when as reported earlier, a bout of margin calls and stop loss selling meant not crude but copper would crash in today's episode of "guess the crashing commodity", on what Goldman dubbed a Chinese demand collapse which for those confused is different than an OPEC supply glut, and is also the reason why the entire commodity complex is trading at a decade plus low. As a result copper plunged to a five and a half year low, in the process halting the market due to the severity of the plunge. But the big event overnight was the farcical announcement by the European top court, which as everyone expected, rejected the German rejection of the OMT as illegal, stating it was not only legal (with certain conditions) but greenlighting the way for the ECB's QE in one week, a move which sent the EURUSD crashing to a fresh 9 year low!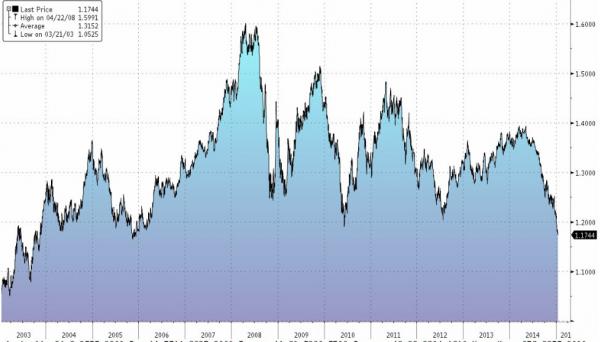 In other news, overnight the Fed's Kocherlakota (non-voter, dove) repeated he does not favour Fed raising rates in 2015 and it will take a few years before inflation back to 2%. (RTRS) With the market focus on the ECB, President Draghi finally ended weeks of speculation and confirmed that the ECB are ready to purchase government bonds, however, market reaction was particularly muted as this announcement was in fitting with market expectations and as such EUR/USD only fell a moderate 15 pips. In related news, the European Court of Justice (ECJ) declared that the OMT bond buying plan may be legal and is in line with EU law in an interim ruling which is a positive for the legalities for the impending ECB sovereign bond purchase program.
Adding insult to injury, the World Bank cut their 2015 Global growth forecast to 3% from 3.4% and says they expect the Fed to hold off on interest rate hikes longer than anticipated due to falling prices, stagnant US wages and lower global growth. Euro-area cut to 1.1% from 1.8%, Japan GDP to 1.2% from 1.3%. China GDP to 7.1% from 7.2% and Russia GDP to -2.9% from -0.7% however US 2015 GDP was raised to 3.2% from 3.0%.
Asian equity markets traded mostly lower with the Hang Seng (-0.3%) and Shanghai Comp (-0.4%), as the indices failed to extend yesterday's post Chinese Trade Balance inspired gains with sentiment weighed upon by the steep decline in copper prices. Elsewhere, the Nikkei 225 (-1.01%) broke back below the 17,000 handle weighed on by weakness in energy stocks and amid JPY strength.
In summary: European shares remain lower with the basic resources and oil & gas sectors underperforming and retail, media outperforming. Copper falls to lowest in more than 5 years. World Bank lowers global GDP growth forecast. Treasury 10-year yield falls to lowest since May 2013, ruble falls for fourth day. EU court aide signals OMT plan in line with rules. The U.K. and Swedish markets are the worst-performing larger bourses, the Italian the best. The euro is weaker against the dollar. French 10yr bond yields fall; German yields decline. Commodities decline, with copper, nickel underperforming and natural gas outperforming. U.S. mortgage applications, retail sales, import price index, business inventories due later.
Market Wrap
S&P 500 futures down 0.3% to 2010.9
Stoxx 600 down 0.6% to 342.9
US 10Yr yield down 2bps to 1.88%
German 10Yr yield down 3bps to 0.45%
MSCI Asia Pacific down 0.4% to 137.3
Gold spot down 0.2% to $1228.9/oz
Euro down 0.13% to $1.1758
Dollar Index down 0.06% to 92.25
Italian 10Yr yield down 6bps to 1.76%
Spanish 10Yr yield down 3bps to 1.61%
French 10Yr yield down 4bps to 0.7%
S&P GSCI Index down 0.5% to 379.1
Brent Futures down 0.2% to $46.5/bbl, WTI Futures down 0.5% to $45.7/bbl
LME 3m Copper down 5.2% to $5557/MT
LME 3m Nickel down 3.1% to $14200/MT
Wheat futures down 0.9% to 543.3 USd/bu
US Event Calendar
7:00am: MBA Mortgage Applications, Jan. 9 (prior 11.1%)
8:30am: Retail Sales Advance, Dec., m/m, est. -0.1% (prior 0.7%)

Retail Sales Ex Auto, Dec., est. 0.0% (prior 0.5%)
Retail Sales Ex Auto and Gas, Dec., est. 0.5% (prior 0.6%)
Retail Sales Control Group, Dec., est. 0.4% (prior 0.6%)

8:30am: Import Price Index m/m, Dec., est. -2.7% (prior -1.5%)

Import Price Index y/y, Dec., est. -5.2% (prior -2.3%)

10:00am: Business Inventories, Nov., est. 0.3% (prior 0.2%)
Bulletin Headline Summary From RanSquawk and Bloomberg
Treasuries gain, 10Y yield falls to new low since May 2013 as slide in copper leads commodities to 12-year low, stocks decline. Week's auctions conclude with $13b 30Y, WI yield 2.48%, lowest on record, vs 2.848% in December.
WTI crude, down more than $60 since June to below $45 yesterday, is on its way to $40, according to SocGen and BofAML; Goldman says WTI needs to remain near $40 during 1H to deter investment in new supplies that would add to the glut
Draghi won a legal endorsement as an adviser to the EU's top court said a bond-buying program designed to help save the euro area may only require fine tuning to bring it in line with EU law; EUR/USD falls to new 9-yr low at 1.1727
Draghi signaled that the ECB is ready to buy government bonds to revive euro-area inflation, according to German newspaper Die Zeit
Giorgio Napolitano, Italy's longest-serving president, resigned today, creating a challenge for Prime Minister Renzi's plans to overhaul the nation's economy and political system.
The plunge in oil makes it increasingly uncertain whether the Bank of Japan will reach its 2% inflation target in the coming fiscal year, according to people familiar with the central bank's discussions
Kaisa Group Holdings Ltd.'s bondholders are seeking restructuring and legal advice after a missed coupon payment pushed the Chinese developer closer to a default; Moody's predicted "substantial losses"
A spate of murders by North Koreans inside China's border is prompting some residents to abandon their homes, testing China's ability to manage both the 880-mile (1,400- kilometer) shared frontier and its relationship with the reclusive nation
Sovereign yields fall. Asian stocks fall; European stocks, U.S. equity-index futures decline. Crude steady; copper plunges 5.1%, gold falls
DB's Jim Reid concludes the overnight recap
The star of today's movie will be the exotically named Pedro Cruz Villalon, one of the ECJ advocates generals, who will today at 9.30am CET give his opinion on the German constitutional court's referral to the ECJ on OMT. While the opinion doesn't seem to be binding on anyone it will be influential. Indeed it will be several months before the German court translates today's findings. Whatever the outcome today (DB is sanguine) we're not sure it automatically has a direct read through to QE even if causes obvious complications if negative. We are not experts on this subject, especially the legal side, so we have to be careful but for what it's worth we think QE and OMT can be legally separated. The former can be argued as being a vehicle to facilitate monetary policy in the course of meeting the ECB inflation target (which they are failing on), whereas the latter could be argued to be financing a member state which is problematic treaty wise. Different enough? We think so. Anyway expect news to start to filter through the wires after he starts speaking this morning.
Also to look forward to today is JP Morgan's earnings which is often an early read into conditions in what is still one of the largest sectors in the markets. One of the other biggest sectors, namely Energy continues to grab the headlines with energy stocks (-0.73%) dragging the S&P 500 (-0.26%) lower yesterday for its third consecutive day. Credit markets in the US closed softer also with IG23 half a basis point wider and US HY energy credits widening +8bps in cash spread terms. It was in fact a volatile day yesterday with equities initially opening some +1.4% firmer, helped in part by a decent European session - which we'll touch on later - and also generally solid data. The S&P 500 later succumbed to the declines in oil, hitting an intraday low of -1.0% before paring back some of those losses into the close.
There were similar volatile moves in oil markets over the course of the day. After both markets traded as much as 3-5% lower for the majority of the session, WTI (-0.39%) and Brent (-1.77%) recovered into the close at $45.89/bbl and $46.59/bbl respectively. Yesterdays moves mean WTI and Brent are 12.5% and 18.7% lower year-to-date already and some 55%-58% off their 2014 highs. The spread between the two markets has continued to narrow recently and yesterday Brent briefly traded below WTI. Yesterday's moves were not helped by news out of the UAE energy minister who was quoted on Reuters as saying that 'the strategy will not change' with regards to any cuts in production out of OPEC. An article in the WSJ also noted that production at Canada's Oil Sands project will continue to stay high. We've previously mentioned the pressure of declining energy prices at the micro-level for energy producers but yesterday we had evidence of stress at the sovereign level too with Moody's downgrading oil-sensitive Venezuela two notches to Caa3 – with Bloomberg noting that the sovereigns 1y CDS is now implying a 75% probability of default.
In terms of data in the US yesterday, both the December NFIB small business optimism survey (100.4 vs. 98.5 expected) and January IBD/TIPP economic optimism survey (51.5 vs. 48.7 expected) surprised to the upside whilst the JOLTS job openings reading (4.97m vs. 4.85m expected) continued to paint a strong employment picture – the reading was in fact the highest since January 2001. Breaking down the reading further, the hiring rate declined a tenth to 3.6% but still remains high relative to the range whilst the quits rate was stable at 1.9%. Treasuries bounced around over the course of the session. The 10y benchmark initially rallied into a low of 1.862% - matching the October 15th intraday lows on the incredible day of the flash crash - before giving up those gains and closing relatively unchanged at 1.900% (-0.7bps). A weaker than expected 10y auction perhaps didn't help with the bid-to-cover ratio (2.61) below the average of the past ten auctions (2.73).
It was a different story in Europe yesterday with the Stoxx 600 (1.44%) and Dax (+1.63%) having a second successive strong day. Unlike in the US, energy stocks (+0.84%) proved resilient. Commentary out of the ECB's Benoit Coeure helped support the better tone. In a report with German press Die Welt, the official was quoted as saying that 'the discussion is far advanced' with regards to prep work on QE and that last week we 'had discussed a lot of technical details'. Coeure then went on to say that 'we are in any case ready to take a decision on January 22nd' but that 'doesn't necessarily have to mean we will actually decide'. As we've previously mentioned, the 'how' is perhaps more important than the 'when' in terms of the overall impact. Coming back to Coeure's comments, the official also noted that in regards to Greece 'an election there changes nothing on the path of monetary policy'. Greek equities (+3.26%) continued to strengthen yesterday, pushing them back into positive territory for the year.
On the data front the main release was the UK CPI which came in yesterday at +0.5% yoy (from +1.0%) which using our long-term data is the joint lowest print since 1963, matching lows seen in spring 2000. So we continue to be in very unusual times. DB's George Buckley noted that the entirety of the monthly fall can be attributed to energy and petrol – evidenced in an uptick in the core rate to +1.3% yoy (from +1.2%). In terms of where inflation goes from here, George believes that we should see it rising from mid-year, albeit from low levels however given the declines in energy prices we could yet have further surprises to the downside. Elsewhere it was a quiet day data-wise with just a modestly better Italian industrial production print (+0.3% mom vs. +0.1% mom expected). After initially trading lower intra-day (0.455%), 10y Bund yields finished the day relatively unchanged at 0.477%. Finally the Euro hit a fresh 9-year low at $1.1773. Rounding up yesterday's news, the World Bank yesterday cut its forecast for global growth to 3% for 2015 (from 3.4%) and 3.3% for 2016 (from 3.5%). Chief economist, Kaushik Basu, at the Bank noting in particular that although the US recovery is helping, 'we need several engines' and that 'risks to this slow-moving global recovery are significant and tilted to the downside'.
Looking at the trading this morning bourses are generally mixed although WTI (-1.18%) and Brent (-1.05%) have both taken another leg lower. Copper also continues to tumble, trading as much as 6.6% lower overnight to a five and a half year low. The Nikkei (-1.27%), Kospi (-0.05%) and ASX 200 (-0.95%) are all trading softer, however the Hang Seng (+0.07%) and Shanghai Composite.
In terms of the day ahead, as well as the aforementioned ECJ this morning we've got more inflation readings in Europe with both France and Italy CPI due. Euro-area industrial production will also be of some interest. Across the pond this afternoon, December retail sales will likely be a key focus with the market looking for an energy-weakened negative headline reading (-0.1% mom). Stripping out the auto and gas component however, consensus is for a +0.5% print. Elsewhere in the US, we will also get the import price index and business inventories reading as well as the release of the Fed Beige Book. Comments from the Fed's Kocherlakota speaking on the US economic outlook could also be of some interest.