The USD seems to be gaining against the EUR and GBP during this first US session of the week. It shows some anticipation of a rate hike to be announced by the FOMC later this week. Let's take a look at the EUR/USD.

EUR/USD 1H Chart 9/14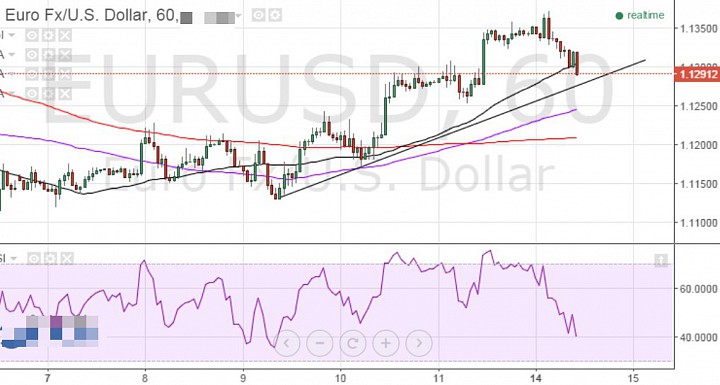 (click to enlarge)

The 1H EUR/USD chart shows the pair approaching a critical level relative to price action since last week. I am referring to a rising trendline from last week that has represented a bullish attempt. The market might want to pull back from this bullish attempt as it awaits Thursday's key FOMC event risk. 

If price does not close below this rising channel in this next couple of sessions, it would represent traders' doubts about a rate hike. I think the EUR/USD is neutral if it falls back to the 1.12 level. Here, last week's bullish attempt would be retraced about 61.8%, but the bullish breakout would still be valid.

Basically, if price holds above 1.12 after the FOMC event, then we should probably look for upside in EUR/USD, especially if the 4H RSI holds above 40 for the most part. 

However, if price falls back below 1.12, EUR/USD is likely flat and possibly bearish, especially if the FOMC indeed raises interest rates.