IBM's chart looks very bullish. Let's take a look at the daily.

IBM Daily Chart 7/19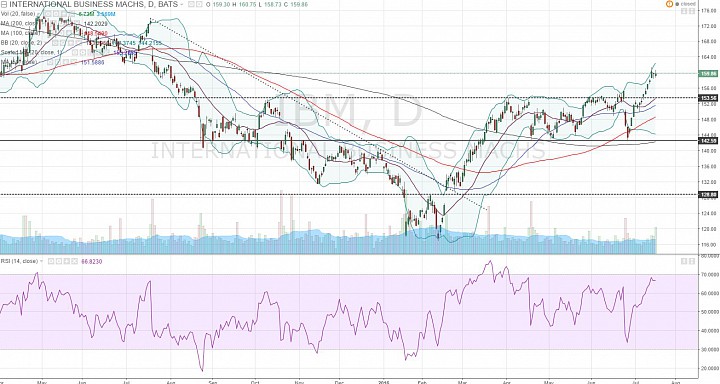 (click to enlarge)
Bullish reversal: 
The daily chart shows a maturing bullish reversal.
After the double bottom back in January-February, IBM surged to 153.50, which was a resistance pivot from Oct. 2015. 
IBM consolidated between 142.60 and 153.50, but held above the cluster of moving averages for the most part. 
The RSI also held above 40 for the most part, which reflects maintenance of the prevailing bullish momentum.
A July-push broke above the consolidation, and IBM is now has the 2015-highs around 175 in sight. 

At this point, I think 150 has become a critical support pivot. A break below 150 should lead to consolidation or choppy/sideways trading. A hold above 150 indicates that the upside to 175 is still alive .
Subdued reaction to earnings report: The recent earnings report was not great, as revenue continued to slide. But earnings per share did beat estimates. The market's reaction probably shows that bulls are "tired" in the short-term. The earnings report did not provide any impetus for further gain. Perhaps, a short-term consolidation is in order. 
If the market does consolidate, look for buying at or just above 150. 
Earnings:
From CNBC:
International Business Machines reported quarterly earnings and revenue that beat analysts' expectations on Monday. 

The enterprise technology company posted fiscal-second-quarter earnings per share of $2.95, compared to $3.84 a share in the year-earlier period.

Revenue for the quarter came in at $20.24 billion, against the comparable year-ago figure of $20.81 billion. This quarter marks IBM's 17th straight quarterly decline in revenue. Shares edged slightly higher in after-hours trading following the earnings report.

Shares edged slightly higher in after-hours trading following the earnings report.

Analysts expected IBM to report earnings of $2.89 per share on revenue of $20.03 billion, according to a Thomson Reuters consensus estimate.

The earnings come as Big Blue, founded in 1911, continues its transition from a legacy technology company to the cloud. The company's data intelligence play, Watson, is branded as "cognitive," or artificial intelligence plus, and aims to add value compared with its cloud competitors.
(full article from CNBC)