With the strength of the USD seen starting on Monday, and extending into today's session, we are starting to see some downward trending structures setting up in USD crosses.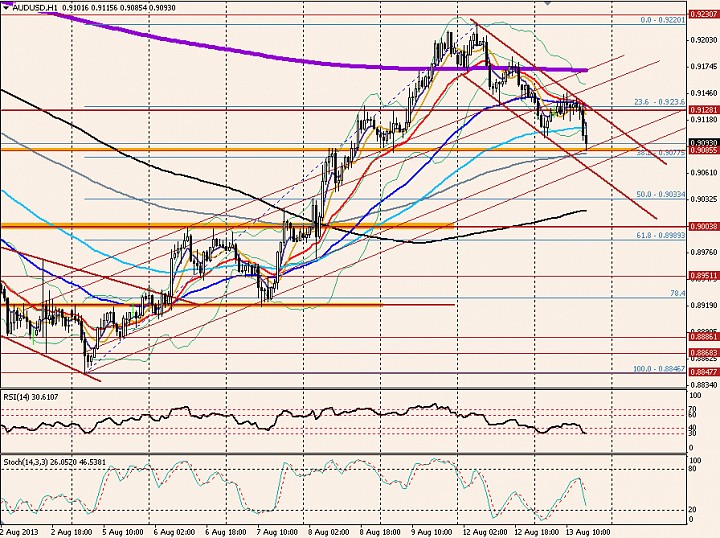 Here is the
AUD/USD which was unable to push past 0.92 to start the week and has now put in a sequence of lower highs and lower lows. The question is if this is a corrective action to the uptrend we saw over the previous 5 sessions, or if we are reverting back to the downswing we saw in the medium/longer term charts.

There's no real need to guess here and try and think we know what the market will do next (while we may have intuition one way or the other, you "never know what the market will do next" - if you don't understand that idiom then its time to brush up on your Mark Douglas).


Why do I say that? Well, we have some very important levels here:
There's an old level of resistance that is acting as support at the 0.9085 level.
We are testing the 200-EMA (gray) which is watched by many traders.
We approach the support levels of the old channel trendline (at its widest point and parallel lines from the inner part of the range).

Therefore, to know if we have a real move back in favor of the USD, we just need to see the 0.9085 confluence of support broken. If it is, that likely opens up at least the 0.90 handle. If instead the 0.9085 level acts as support, we may have an area from which the pair's longs take their chance to buy on the dip. It may be prudent to wait for a break of 0.9130 area though, as that would be confirmation of continuation in the pair.
The movement in the US 10-year today does suggest that USD strength may be back so I do lean towards a slightly stronger retrace downward in this pair.
- Nicl