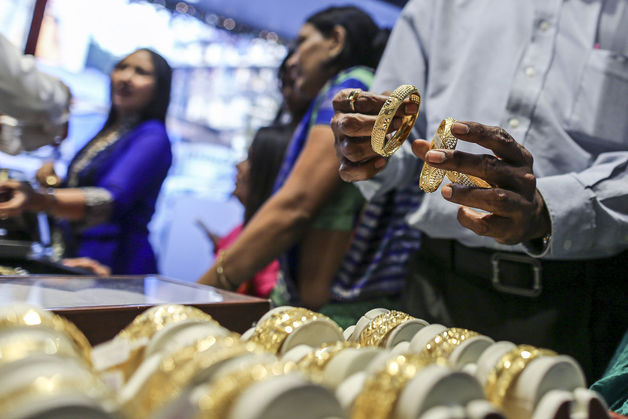 Photographer: Dhiraj Singh/Bloomberg

Gold premiums in India, the biggest user after China, may double by the end of October as the fourth straight quarterly decline in local prices spurs jewelry purchases before the nation's main festival season.
The fees that jewelers pay banks and dealers may increase to $20 an ounce over the London cash price by the Diwali festival, a level last seen in early July, Bachhraj Bamalwa, a director at the All India Gems & Jewellery Trade Federation, said by phone from Kolkata. The nation celebrates the Hindu festival of lights on Oct. 23 this year.
Gold in Mumbai priced in rupees is heading for the longest run of quarterly losses since June 2004 as global prices drop on a strengthening dollar and prospects for higher U.S. interest rates. Jewelry sales in India and China, the largest buyers, typically climb in the fourth quarter before the festivals and the wedding season. India placed restrictions on bullion imports last year to narrow a recordcurrent-account deficit.
"Indian consumers had been resisting buying gold in the last few months because prices were higher and now they will buy for festivals and weddings," Bamalwa said on Sept. 23. "Consumers have realized that the government will not take any measures to ease import restrictions soon, so they will stop postponing purchases. Price is the most important factor."
Futures dropped 4.6 percent this quarter to 26,494 rupees ($434) per 10 grams on the Multi Commodity Exchange of India Ltd. in Mumbai. Bullion for immediate delivery in London, heading for the first quarterly decline this year, traded at $1,214.19 an ounce at 10:35 a.m. in Mumbai today.
WGC Outlook
Jewelry and investment demand in India dropped 34 percent to 394.4 metric tons in the first six months, according to the data from the London-based World Gold Council. Usage tumbled after the import curbs were introduced last year. Full-year demand may be between 850 tons and 950 tons, the WGC estimates.
Demand for gold in India remains relatively robust and is seen at 800 tons this year, Credit Suisse Group AG said on Sept. 23. China and India will continue to be strong sources of physical demand as consumers see value in prices toward the lower end of a range from $1,200 to $1,400 an ounce, it said.
"We expect premiums to rise but they will still be lower than last year and therefore won't trouble consumers much," said Bamalwa. The fees were about $120 an ounce last Diwali and peaked at $160 in December, he said.
Modi's Agenda
Demand is seen rising as consumer confidence improves after the election of a new government, C.K. Venkataraman, chief executive officer of Titan Co. Ltd.'s jewelry business, said on Sept. 13. Prime Minister Narendra Modi prioritized the curbing of food costs, part of an agenda that also seeks to revive economic growth from near a decade low. The benchmark S&P BSE Sensex stock index increased 26 percent this year while the rupee rebounded about 13 percent from its record low in August.
Prospects for better demand spurred gains in shares of jewelry retailers in Mumbai. Titan, India's largest branded-jewelry maker by market value, reached a record this week and is 70 percent higher this year. Tribhovandas Bhimji Zaveri Ltd. (TBZL) advanced 17 percent in 2014, while Rajesh Exports Ltd. (RJEX) jumped 85 percent.
While jewelry buyers will relish the price decline, it may hurt the interest of investors during Diwali, said Mayank Khemka, managing director of Khemka Group of Companies.
Indians buy bullion during festivals and for weddings as part of the bridal trousseau. The festivals begin in late August and peak with Diwali, and are followed by the wedding season. The strength of the monsoon, which helps to determine the nation's agricultural output, can influence gold demand.
Monsoon Impact
"Monsoon has been good overall, so buying from villages will also improve," said Kumar Jain, owner of U.T. Zaveri jewelry store in Mumbai's Zaveri Bazaar. "At the same time, inflation has come down and people will have some money for discretionary spending."
More than 75 percent of India got normal monsoon rain this year, the India Meteorological Department estimates. About 833 million people out of India's 1.2 billion population depend on agriculture for their livelihood and the sector provides 14 percent of the nation's gross domestic product. Wholesale inflation slowed to 3.74 percent in August, a five-year low.
http://www.bloomberg.com/news/2014-09-25/gold-premiums-in-in...