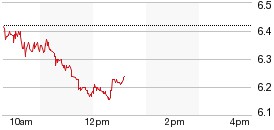 CONCORD, Calif.--(BUSINESS WIRE)--
Cerus Corporation (CERS) announced today that William "Obi" Greenman, president and chief executive officer, is scheduled to present a corporate update at the Deutsche Bank 41st Annual Health Care Conference at 1:30 pm ET on Thursday, May 5, 2016.
A live webcast of the presentation will be available on the Investor Relations page of the Cerus web site at http://www.cerus.com/ir. A replay will be available for approximately...
More