U.S. equities crawled higher again on Wednesday - posting the ninth straight gain for the tech-heavy Nasdaq Composite and the 10th gain out of 11 sessions - to hit new record highs. The summer doldrums are fully upon us, with a lack of trading volume and meaningful catalysts. Yet investors don't seem to care, with higher prices coming as naturally as breathing the air right now.
In fact, by multiple measures, this is the easiest market condition in decades.
In the end, the Dow Jones Industrial Average gained 0.3%, the S&P 500 gained 0.5%, the Nasdaq gained 0.6% and the Russell 2000 gained 1%. Treasury bonds were little changes, the dollar was mostly stronger, gold was little changed and crude oil rallied on a surprise inventory draw gaining 1.6% and boosting the energy sector.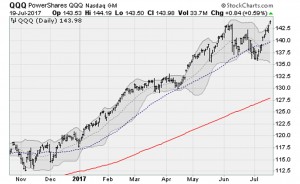 Breadth was heavily positive, with advancers outpacing decliners by a 3:1 ratio with NYSE volume at 83% of its 30-day average. Energy stocks were the leaders, up 1.4% while industrials were the laggards...
More