China released its inflation data to start the week - which showed the annual CPI at 3% for Nov., in line with expectations and a bit cooler than the 3.2% rate in Oct..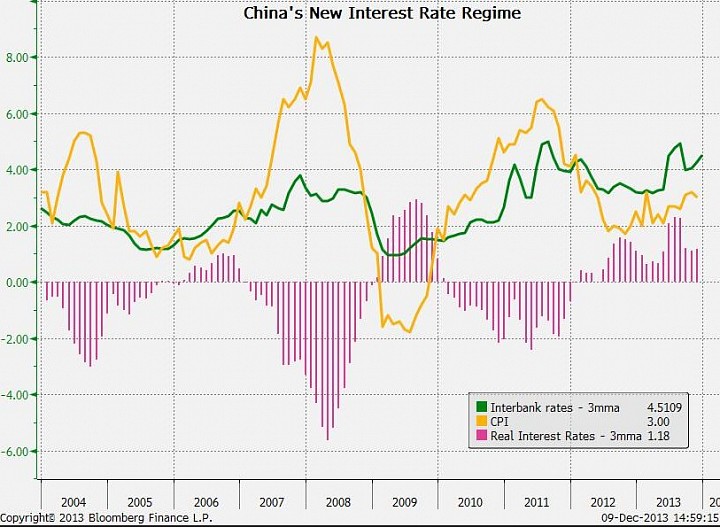 I found a nice graphic showing the last 10 years of China's CPI data along with the interbank interest rate (in essence the rate that banks can earn on their deposits). When you take the difference between that interbank rate and the CPI you get the "real interest rate", and as the title of the graphic suggests we can see a marked difference  between the phase in 2010-2011 and now in 2012-2013. Chinese banks are having a good time at the moment as they are able to earn decent returns because inflation is below the interbank rate.  
For some more info on China's interest rate policy try this article from The Economist - China's central bank has liberalized lending rates. Does it matter?.
Here's an excerpt:
"The interest-rate reform that everyone is waiting for is liberalisation of deposit rates. China's policy of financial repression has capped the rate that banks can pay depositors, even as it put a floor on the rate at which they must lend. That has guaranteed fat profits for the big state banks, like Bank of China and the Industrial and Commercial Bank of China, that dominate the financial system. The liberalisation of lending rates may be a half-measure, but officials still hope it will increase competition among banks and spur lending to the corporate sector, especially to private firms that have long been starved of capital."

And, here is an article from today, about recent developments - China to Liberalize Interest Rates by Allowing Inter-Bank Certificats of Deposits.