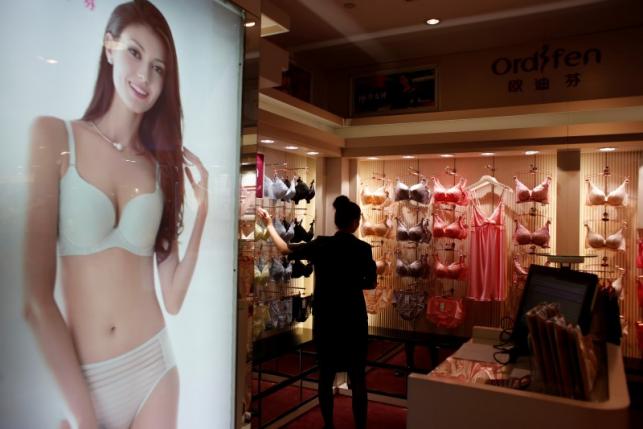 High-end lingerie sales are outpacing China's generally downbeat luxury market, and heating up competition between international brands and local rivals looking to go upmarket.
U.S. brand Victoria's Secret will open its first store, and companies including Italy's ultra-luxury La Perla and Germany's Triumph are adding stores and moving beyond China's mega-cities to tap a lingerie market that has more than doubled in five years to $18 billion, according to Mintel Group.
Chinese consumer tastes are maturing, women are more confident about buying for themselves and President Xi Jinping's drive against conspicuous consumption is likely diverting spending from flashy branded bags and accessories to sports and ath-leisure wear and the more discreet lingerie.
"Luxury is ... not about buying to show off, it's about buying items that make you feel good," says Chiara Scaglia, La Perla's Asia chief.
China's women's underwear market is expected to have a retail value of $25 billion by next year - double that of the United States - and will grow to $33 billion by 2020, according to Euromonitor.
Chinese firms such as Beijing Aimer, Maniform and Ordifen are also chasing that money, targeting higher-end customers and raising their quality.
"That means foreign brands will have to out-compete local brands not just on quality, but also innovation," said Matthew Crabbe, director at...
More