On Friday morning, after the biggest surge in the onshore Yuan in a decade, we explained it as follows: "capital controls are to some extent counterintuitive. That is, the stricter the capital controls, the more people want to move their money out of the country. Here's how we put it last month: "What better way to spark a capital exodus than with very vocal, and very effective capital controls. Just look at Greece."
Indeed, China will likely need to completely liberalize the capital account in the coming years in order to pacify the IMF which is poised to throw Beijing a bone and grant its RMB SDR bid. Inclusion could lead to some $500 billion in reserve demand.

 

That helps to explain why overnight, the yuan soared the most in a decade after China moved to loosen capital controls with a trial program in the Shanghai free trade zone that would allow domestic individuals to directly buy overseas assets. The move marks another step towards capital account convertibility, thus bolstering Beijing's bid for yuan internationalization.
Ironically, this did absolutely nothing to ease the local population's concerns that capital outflows are accelerating, and certainly did nothing at all to help the Chinese export economy, which as we saw from the overnight PMI numbers, deteriorated once more to new cycle lows.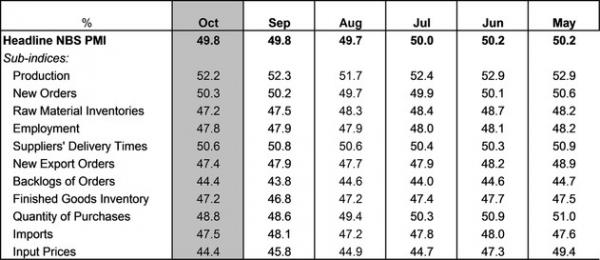 Fast forward to today when Westpac strategist Sean Callow said that the Froday jump in yuan' spot rate on Friday and weaker dollar since last week's close could mean largest daily gain in yuan fixing in several years, adding that the obvious policy priority for stronger yuan essentially sidelines fixing models for time being.
Sure enough, as per the fixing limits established as part of the August 11 Yuan devaluation, moments ago the PBOC announced that it had set the Yuan at a USDCNY fixing of 6.3154, a strengthening of a massive 0.54% - the most since 2005 - following the manic end of trading PBOC intervention on Friday that sent the Yuan soaring some 300 pips from 6.3475 to 6.3175.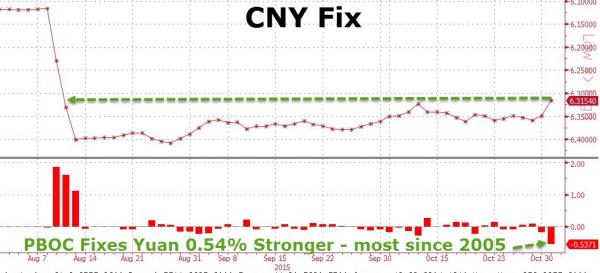 So while the Chinese capital outflow is accelerating with every passing day, and which may now be best seen in the daily surge in the price of Bitcoin which has become a preferred means of circumventing China's strengthened capital controls...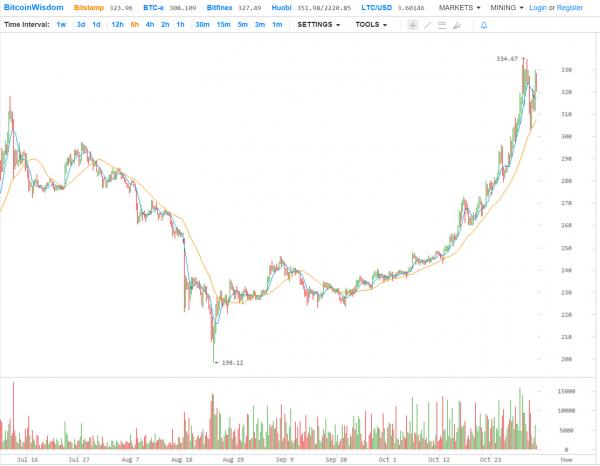 ... China is well on its way to not only filling the entire devaluation gap, but slamming its export industries with an increasingly stronger currency, and thus assuring that any stabilization in the Chinese economy is promptly wiped away.