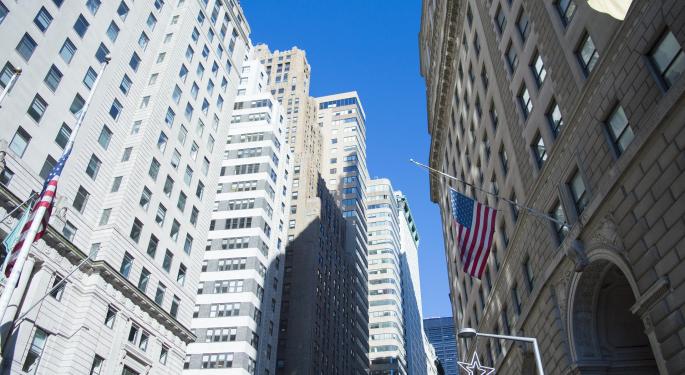 Below is a tool used by the Benzinga News Desk each trading day -- it's a look at everything happening in the market, in five minutes. Apply for daily AM access by clicking here or email minutes@benzinga.com.
Macro Focus
U.S. stock futures traded higher ahead of earnings from several major companies. Futures for the Dow Jones Industrial Average climbed 62 points to 18,543.00, while the Standard & Poor's 500 index futures rose 6.50 points to 2,165.50. Futures for the Nasdaq 100 index gained 14.75 points to 4,621.25.
Oil prices traded higher as Brent crude futures rose 0.32 percent to trade at $46.83 per barrel, while US WTI crude futures also declined 0.07 percent to trade at $44.62 a barrel.
The Energy Information Administration's weekly report on petroleum inventories is schedule for release at 10:30 a.m. ET.
BZ News Desk Focus
Some of last night's and this morning's most notable earnings:
Microsoft MSFT Reports Q4 EPS $0.69 vs. Est. $0.58, Rev. $22.64B vs. Est. $22.14B
Intuitive Surgical ISRG Reports Q2 GAAP EPS $4.71, Adj. EPS $5.62 vs $4.97 Est., Sales $670.1M vs $540.7M Est.
Halliburton HAL Q2 EPS ($0.14) vs ($0.19) est, Revenue $3.84B vs $3.75B est
Morgan Stanley MS Q2 EPS $0.75 vs $0.59 est, Revenue $8.9B vs $8.3B est
Sell-Side's Most Noteworthy Calls
Oppenheimer downgraded Verizon VZ to Perform.
Stifel downgraded Disney DIS to Hold.
Argus upgraded Johnson & Johnson JNJ to Buy.
Canaccord upgraded Diamondback Energy FANG to Buy.
RBC initiated coverage on Panera Bread PNRA at Outperform.
Argus started Charter CHTR at Buy.
Deal Talk
Unilever UL signed an agreement to purchase Dollar Shave Club. In 2015, DSC had turnover of $152 million and is on track to exceed US$200 million in turnover in 2016.
Beasley Broadcast Group BBGI and Greater Media have entered into a definitive agreement under which Beasley will acquire all of the outstanding stock of Greater Media for approximately $240 million.
In The News
The Republican Party officially picked Donald Trump as its presidential nominee, the political novice who has repeatedly broken with party orthodoxy and political protocol.
21st Century Fox FOXA is negotiating the exit of Fox News chief Roger Ailes following a sexual harassment lawsuit filed by a former network anchor.
Blogosphere
One of our writers was in Istanbul the night of the Turkey coup attempt. Read his tale of confusion, fear and relief.
Trending
VRX MSFT PGNX MS HAL OPTT ISRG ABY GLBL RGSE RF UAL WBC [StockTwits]
Garry Marshall, who created some of the most popular 1970's TV shows -- including "Mork and Mindy" and "Happy Days," and directed hit films like "Pretty Woman" and "The Princess Diaries" -- died Tuesday in a Burbank hospital. He was 81 years old.
© 2016 Benzinga.com. Benzinga does not provide investment advice. All rights reserved.