GBP/USD has been consolidating since last week, after finding resistance near 1.6840.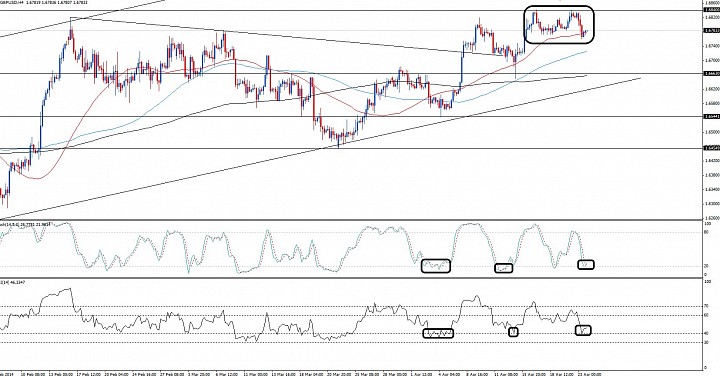 (gbpusd 4h chart, 4/24)
The 4H chart shows a double top, which has bearish implications. However, we often see a completed double top followed by bullish continuation, especially if the prevailing uptrend is strong, and it is not at a major resistance.
In the case of GBP/USD currently, we can expect a bullish attempt in the 4/24 session. The stochastic-RSI readings were at 20-40, which in a bullish trend signals the end of a bearish swing, and suggests a bullish one ahead. 

(gbpusd daily chart, 4/24)
At this point, only a break below 1.6660, and a rising trendline since Oct. 2013, should shift the mode from bullish to neutral. Otherwise, any bearish attempt coming out of the double top might be an opportunity for cable-bulls to buy on a dip.