Gilead Sciences (GILD) just released its second-quarter financial results, posting non-GAAP diluted earnings of $2.56 and revenues of $7.14 billion. Currently, GILD is a Zacks Rank #3 (Hold) and is up 2.44% to $76.00 per share in trading shortly after its earnings report was released.
Gilead:
Beat earnings estimates. Gilead reported GAAP diluted earnings of $2.33 per share and non-GAAP diluted earnings of $2.56 per share. Adjusting for stock option expenses, the company posted earnings of $2.51 per share, beating the Zacks Consensus Estimate of $2.11.
Beat revenue estimates. The company saw revenue figures of $$7.141 billion, crushing our consensus estimate $6.359 billion.
Total product sales came in at $7.05 billion for the quarter, while royalty, contract, and other revenues totaled $95 million. Revenues were down about 6.7% from the prior-year quarter.
Antiviral product sales, which include sales of HIV, chronic hepatitis B (HBV), and chronic hepatitis C (HCV) products totaled $6.4 billion, down from $7.1 billion in the same period last year. The slump in this unit was due to lower sales of HCV products, while sales of HIV and HBV products actually grew year-over-year.
Research and development expenses came in at about $864 million, which was down from $1.48 billion last year.
Gilead updated its full-year guidance. The company now expects revenues in the range of $24 - $25.5 billion, up from its previously announced range of $22.5 - $24.5 billion.
Here's a graph that looks at Gilead's recent earnings performance:
Gilead Sciences, Inc. Price, Consensus and EPS Surprise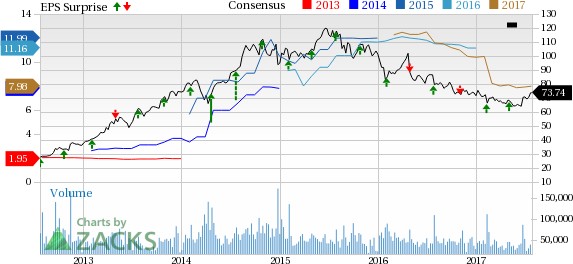 Gilead Sciences, Inc. Price, Consensus and EPS Surprise | Gilead Sciences, Inc. Quote
Gilead Sciences, Inc. is an independent biopharmaceutical company that seeks to provide accelerated solutions for patients and the people who care for them. They have a broad-based focus on developing and marketing drugs to treat patients with infectious diseases, including viral infections, fungal infections and bacterial infections, and a specialized focus on cancer.
Check back later for our full analysis on GILD's earnings report!
Want more stock market analysis from this author? Make sure to follow @
https://twitter.com/Ryan_McQueeney
on Twitter!
The Hottest Tech Mega-Trend of All
Last year, it generated $8 billion in global revenues. By 2020, it's predicted to blast through the roof to $47 billion. Famed investor Mark Cuban says it will produce "the world's first trillionaries," but that should still leave plenty of money for regular investors who make the right trades early.
See Zacks' 3 Best Stocks to Play This Trend >>
Want the latest recommendations from Zacks Investment Research? Today, you can download 7 Best Stocks for the Next 30 Days.
Click to get this free report
Gilead Sciences, Inc. (GILD): Free Stock Analysis Report
To read this article on Zacks.com click here.
Zacks Investment Research