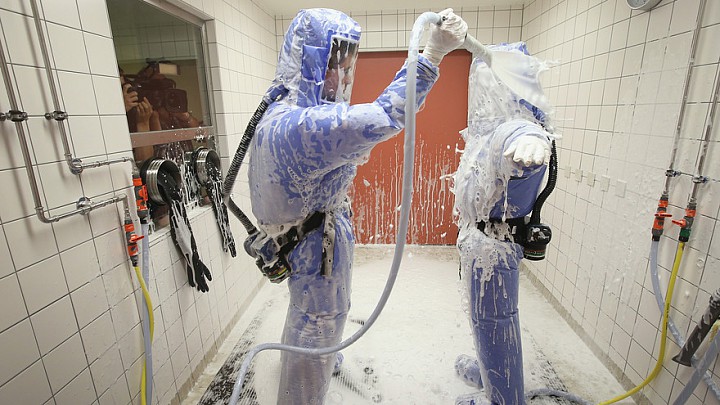 Getty
Makers of hazmat suits like Lakleland Industries are likely to see active trading Monday on Ebola fears.


Among the companies whose shares are expected to see active trading in Monday's session are Dave & Buster's Entertainment Inc., Lakeland Industries Inc., and Tekmira Pharmaceuticals Corp.
Dave & Buster's PLAY, +8.00% : Shares of the arcade and restaurant chain are expected to continue attracting attention following their strong debut on Friday. The stock rallied 8% to close at $17.28.
Compuware CPWR, -1.14% said it is spinning off all of its interest in CovisintCOVS, -4.88% to shareholders.
Dollar General DG, -1.14% and Family Dollar FDO, -0.32% have received requests for additional information from the FTC about Dollar General's unsolicited bid for the discount retailer.
Sears Holding SHLD, -5.99% said its Kmart stores payment data systems were hit by malware in early September that compromised "certain debit and credit card numbers."
Lakeland Industries LAKE, +10.78% : The hazmat-suit maker is likely to remain in the spotlight on fears about the deadly Ebola virus. The stock posted a weekly gain of 126% for a year-to-date gain of 273%.
Alpha Pro Tech Ltd. APT, +53.51% : The face mask maker jumped 129% for the week, rallying 246% so far this year.
Other Ebola-related stocks that are expected to be big movers are biotechsTekmira Pharmaceuticals Corp. TKMR, -4.28% and Chimerix Inc.CMRX, -2.36%