Hi Fellow Traders,
Our mission is to make this market more transparent and simplify the process of making an investment decision. Obviously or not, track record is a base of trader's level of credibility. That's how our Marketplace was created -- retails investors should have a chance to follow some distinguished strategies instead of spending countless man hours on building their own. At the same time, traders should be motivated to show off their portfolios and live-stream their trades -- they can set up a subscription price on the Marketplace initiating a new revenue stream.
We believe that such transparency is a key and therefore no paper trading is allowed on the Marketplace. Marketplace is an essential part of WhoTrades platform and we're driven by the best UX/UI practices available in finance and other fields.
Marketplace Strategies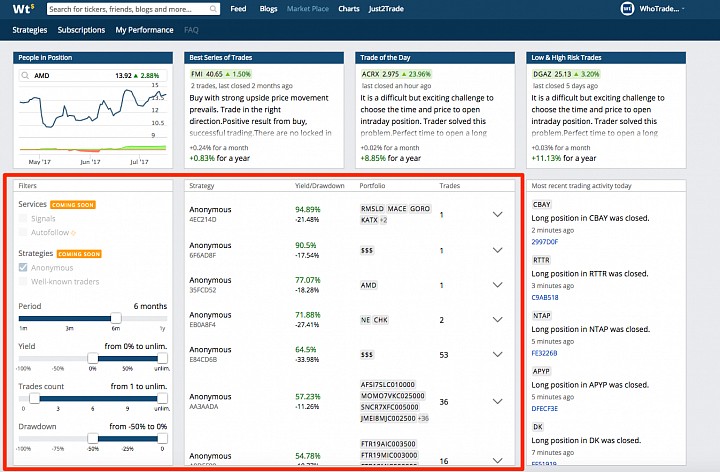 List of the strategies in the middle of the page is based on the filters -- you can move the sliders on the left to find the most appropriate strategy that fits your investment vision. Strategy list reflects the most important data points of each strategy: strategy name, yield and drawdown as well as current portfolio and a number of trades executed within a selected time frame. You can see the details by clicking on the strategy you want to explore.
Strategy Page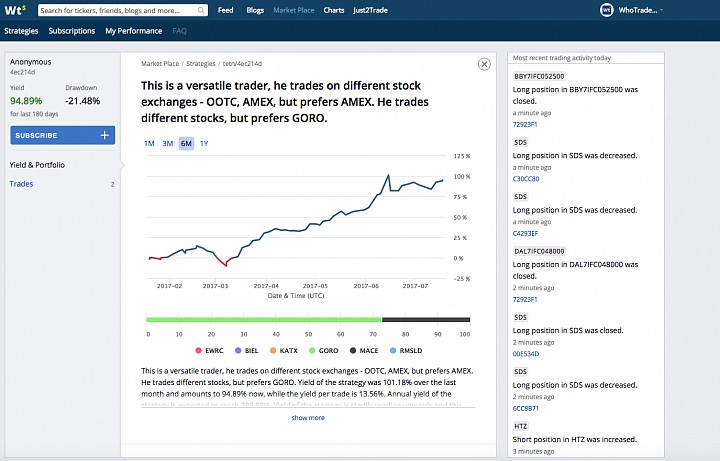 Strategy page consists of several essential parts. First of all, you can check the yield curve and change the time frame right above the chart. Second, you can check the trader's portfolio below the yield curve. Below you can find some of the trades that have been executed by this trader within this strategy.
On the left you can see some key numbers such as yield and drawdown. If you feel that this strategy fits your investment goals -- you can subscribe to it by hitting "Subscribe" button.
Your Subscriptions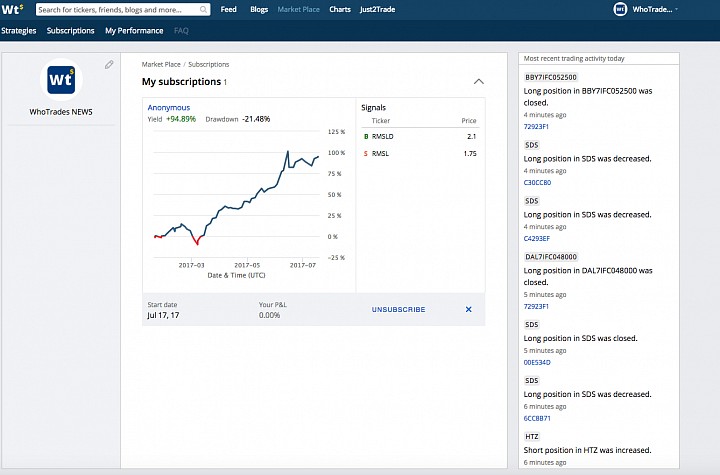 As far as you picked a few strategies that you want to follow -- you can see them on your subscriptions page by clicking this button in the top navigation bar. Trade live-stream happens on this page, so make sure you subscribe the strategies you want to follow.
Your Performance
The only way to establish a high level of credibility and become a top-class asset or hedge fund manager is to be fully transparent with other traders. On the page of Your Performance, you can connect your brokerage account and start live-streaming your trades to your subscribers.

We pull just the necessary data, such as portfolio allocation, trade and its allocation at the moment of execution. All the data is securely encrypted. At the moment we're integrated with Just2Trade, our long-term partner, so if you have an account with them you would be able to connect it to the Marketplace. If you do not have an active account with Just2Trade, you can either open an account with them or wait until we add other broker dealers to the platform. However, we prefer the first option, we may add other broker dealers really soon.
So you're more than welcome to start using the Marketplace, follow the most appropriate strategies and get your benefits right now!
A lot more updates are coming, so subscribe and stay tuned!