Following today's BoE Inflation Report, we saw the pound fall across the board. We noted a key breakout occurring in the EUR/GBP, and we also see important price action i the GBP/USD.

GBP/USD Daily Chart 8/6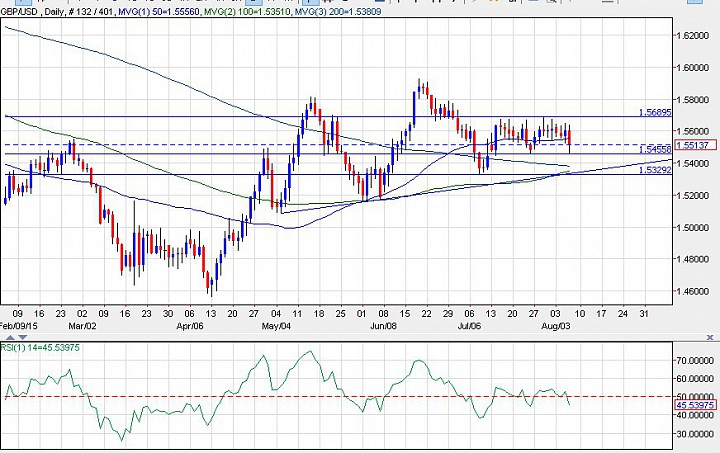 (click to enlarge)
The daily GBP/USD chart shows a pair that has been consolidating in a range between 1.5455 and 1.5690. Price action has been attacking the resistance for most of the past couple of weeks. But after the BoE Inflation Report, cable is now stepping on the range support. A break below 1.5450 should open up a bearish outlook. 
Now, in the daily chart, you can argue that the 1.5330-1.54 area will be important involving multiple support factors. I this this is true, and we should anticipate some bullish attempt from this area. However, I would limit that bullish outlook and watch what happens back at the 1.5450-1.55 area. 

Also, because the 1.5330 area is critical, a break below that should open up the 1.50 psychological level, and a key support/resistance pivot area. 

It's up to tomorrow's US NFP report now. IF it is decent enough , we are likely going to see the proposed bearish scenario. If the jobs report bombs, I would want to see GBP/USD close above 1.5690 before looking for the bullish continuation scenario.