Submitted by Lance Roberts via STA Wealth Management,
As I mentioned previously, I spent the past week on Spring Break with my family on our annual skiing/family reunion in Utah. The good news is that for the first time in four years no one wound up in the medical clinic. But being back also means a return to reality.
One thing worth paying attention to currently is this past week's negative print in retail sales. Despite all of the expectations that lower oil and gasoline prices would lead to a surge in consumption, which I wrote previously was incorrect assumption, retail sales printed a 3rd consecutive monthly drop. As shown in the chart below this has only occurred previously during periods of extremely weak economic growth or recession. More importantly, such periods have also previously witnessed fairly sharp market corrections.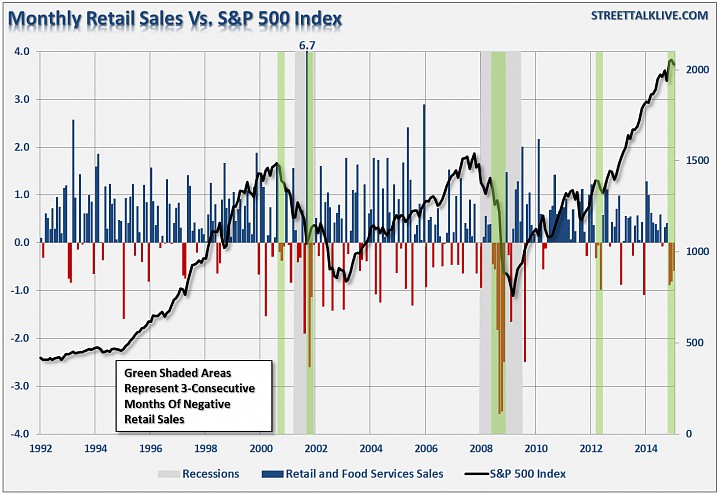 While I am not suggesting that the market is about to "crash," I do bring this point up to denote the extreme divergence between the chase of retail-related stocks and what is actually happening at the retail sales level. The chart below shows the Retail Sector (XRT) as compared to total Personal Consumption Expenditures (PCE).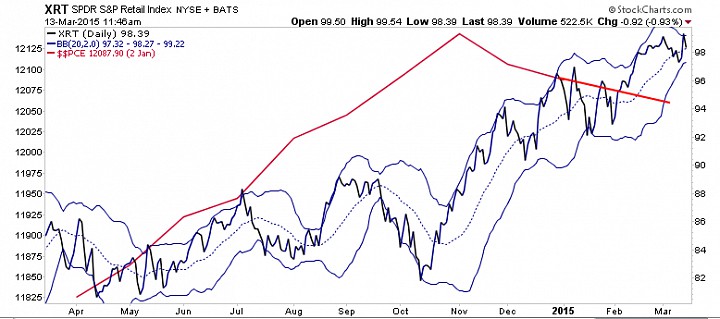 Again, it is worth noting that the last time that retail spending was this weak was during the financial crisis. 
There is a tremendous denial by analysts and economists currently of the deteriorating economic underpinnings. (No, the employment report last week was not that good - read this) However, "irrational exuberance" can carry markets further than logic or data would dictate but there is clear evidence that market momentum has begun to wane. The chart below is a MONTHLY chart of momentum versus the S&P 500 index through the end of February as the current month is not complete yet. The two lower indicators are very close to long term sell signals.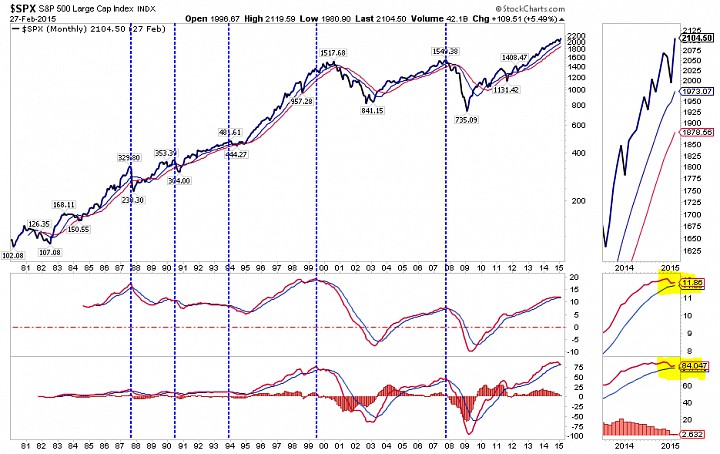 While the chart does not yet suggest exiting the market, as it did just prior to previous market tops, the warning signs are becoming exceedingly clear. 
Okay, enough of my thoughts for now. This weekend's reading list is a catch-up of articles that I clipped into my Evernote file between downhill runs last week.
---
1) Oil Prices And Misguided Retail Investors by Goldman Sachs via ZeroHedge
"We believe that the key force pushing commodity markets higher has been retail investor inflows into oil ETFs. Importantly, these strong inflows have emerged despite weak commodity fundamentals, and with arguably a more bullish outlook for equities than for commodities…"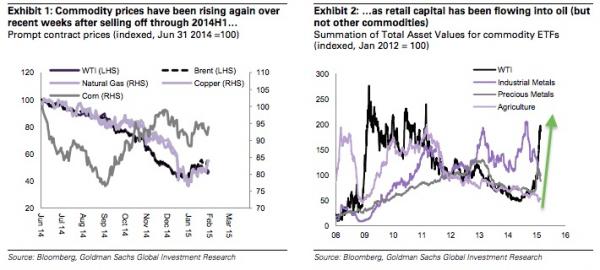 Read Also: US Could Run Out Of Oil Storage By June via ZeroHedge
Read Also: The Real And Troubling Reason Behind Lower Oil Prices by Rana Foroohar via Time
2) What Happens If The US Follows The Rest Of The World? by Charles Hugh Smith via OfTwoMinds Blog
"The quasi-religious faith that central banks can push stock markets ever higher regardless of real-world realities may well be tested in 2015-2016. The global economy spiraling into recession (a.k.a. a period of slow growth--heh) raises two questions:

 

1. Can the U.S. economy decouple from the global economy, i.e. keep expanding production, sales, income and payrolls while the rest of the global economy falters?

 

2. What happens to the U.S. stock market if/when the U.S. follows the rest of the world into recession?"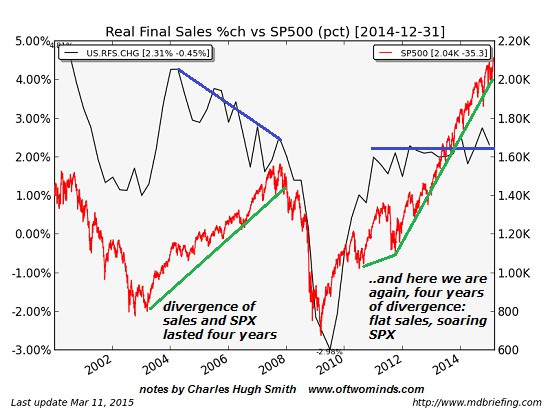 Read Also: Is The Stock Market Ready For Rate Hikes (10 Things To Know) by Jonathan Ratner via The Financial Post
3) GM's Stock Buyback Is Bad For America by William Lazonic and Matt Hopkins via Harvard Business Review
"One of us (Bill Lazonick) has been extremely critical of the kind of buybacks — open-market stock repurchases — that GM has pledged to undertake. Their only purpose is to give manipulative boosts to GM's stock price. The winners will be public shareholders, including the hedge funds, who stand ready to gain by selling their GM shares. If U.S. corporate history of the past three decades is a guide, the $5 billion in buybacks won't be the last. The pump-and-dump hedge funds will come back to GM's buyback well year after year until the cash flow once again runs dry.

 

GM did $20.4 billion worth of buybacks from 1986 through 2002. If it had saved that money and earned a modest 2.5% on it, the company would have had $35 billion on hand when the financial crisis and Great Recession hit and probably would not have had to file for bankruptcy protection. As Bob Lutz, the veteran auto executive, said recently, stock buybacks are "always a harbinger of the next downturn…in almost all cases, you regret it later."
Read Also: Stock Buybacks Are Just Another Wall Street Scam by Jeff Reeves via MarketWatch
Read Also: Buybacks Sustain US Bull Run by Eric Platt via Financial Times
4) The Incredible Shrinking Alpha by Larry Swedroe and Andrew Berkin via WealthManagement.com
"The evidence is that the victims are likely to be individual investors. The research has found that, in aggregate, individual investors around the globe underperform standard benchmarks, such as low-cost index funds, even before costs or taxes. When they trade, they are exploited by institutional investors. And while there is a wide dispersion of results among individual investors, even the best traders have a hard time covering costs.

 

Interestingly, research by Brad Barber and Terrance Odean has found that not all underperformance can be attributed to the excessive trading done by individual investors. On average, individual investors exhibit perverse security-selection abilities—they buy stocks that go on to earn sub-par returns and sell stocks that go on to earn above-average returns."
Read Also: Looks Like Smart Money Is Cutting Bait by Jeff Cooper via Minyanville
Read Also: What A Great Time To Be An Investor by Meb Faber via Meb Faber Research
5) Market Plunge Shows What Is Wrong With The Fed by Louis Woodhill via Real Clear Markets
"The financial markets' violent reaction reacted to Friday's "Employment Situation" report from the Bureau of Labor Statistics (BLS) highlighted everything that is wrong with the Federal Reserve's discretionary, "no rules" monetary policy. If the Fed were following a monetary rule that simply required them to keep the real value of the dollar stable (e.g., by keeping the CRB Index* constant), the markets would have had no reaction to the BLS report at all.

 

The markets know that, with $2.4 trillion in excess reserves in the banking system, the Fed is in uncharted waters. Under current circumstances, the method (Open Market operations) that the Fed employed for decades to manage the Fed Funds rate will not work, and the markets are justly afraid of the possible side effects of more Fed "improvising."
Read Also: The Biggest Threat To Stocks Now Is A Fed Rate Hike by Matt Egan via CNN Money
Read Also: There Is No Need For The Fed To Raise Interest Rates via IvanHoff's Tumbler 
Bonus Read: Fair Pricing, Bubbles And Crashes by Henri Waelbroeck via Pensions & Investments
---
"Wall Street is the only place that people ride to in a Rolls-Royce to get advice from those who take the subway." - Warren Buffett
Have A Weekend.