Last week, I was looking at resistance around the 1.44 area for GBP/USD. Initially, my trade worked out, but the failure to break below 1.43 prompted me to scale out my position, and this week's price action so far stopped me out. With a bullish breakout from a falling consolidation resistance, GBP/USD is bullish at least in the short-term. But I still think there is a short play this week. 

GBP/USD 4H Chart 4/25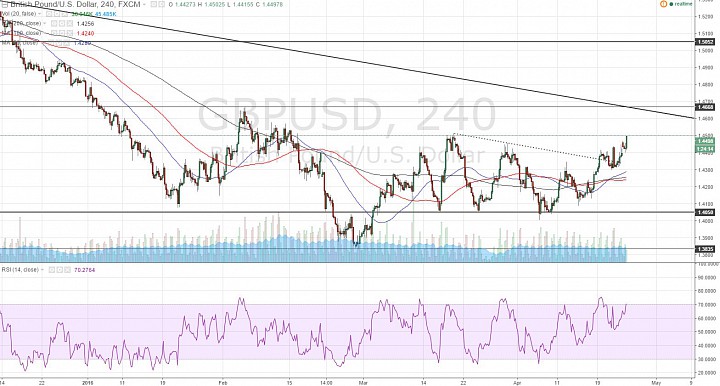 (click to enlarge)

The 4H chart shows a bullish swing developing. But we can see that the prevailing trend heading into March was bearish. Now, if price gets into the 1.46-1.4650 area, we should anticipate strong resistance.

GBP/USD Weekly Chart 4/25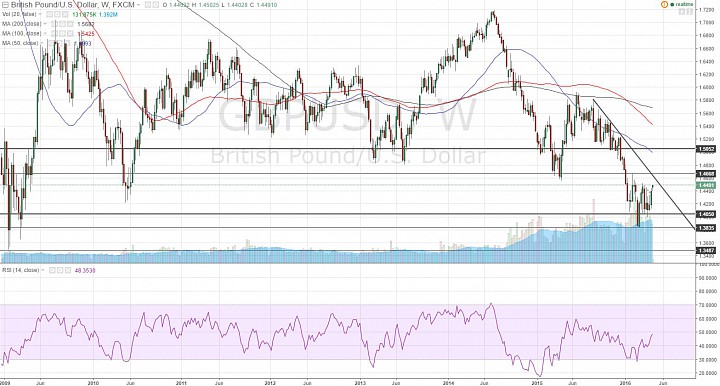 (click to enlarge)

In the 1.46-1.4650 area, GBP/USD would be challenged by a previous resistance from the February. This is a support/resistance pivot area, with support in March and April 2015. Furthermore, there is a falling speedline coming down from highs since August 2015.

From this area, we should anticipate at least a test of 1.44, with 1.43 in sight as well. This would represent the middle of the 2016 range which is roughly between 1.38 and 1.48. It would also be around the "central pivot of the March-April consolidation. 

If price can clear 1.47, we should consider a bullish reversal in GBP/USD. It would open up the 1.50-1.52 area, especially if price established support again in the 1.44-1.46 area. 

FOMC:
The FOMC is meeting this week, but I don't think it will provide much information. Still, it is an event risk. To me, as long as the FOMC does not become MORE dovish, the GBP/USD should find resistance in the 1.46-1.4650 area. Currently, the market is expecting one more rate hike later on in the year. If Yellen puts any doubt to that prospect, we can see USD weaken and GBP/USD like to pop above 1.47. 

On the other hand, if Yellen makes it sound like there could be 2 rate hikes this year, we should see USD strengthen sharply, to test the 1.44 pivot. A break below 1.44 should open up the 1.4050 area, with the 1.3835 low in sight as well (given a hawkish statement).