The main story for Toyota Motors (TM) this week is that the stronger yen in 2016 has hurt the bottomeline for the Japanese car maker. The latest earnings report also showed:
- 4% lower vehicle sales in the US vs. a year earlier (Q1).
- global vehicle sales volume did tick up 2.8% to 2.17 million units, but the stronger yen erased these gains. 
- profit dropped to 552.47 billion yen (14.5% decline vs. a year ago) and revenue fell to 6.59 trillion yen (5.7% sales decline vs. a year ago). 
- operating profit also dropped 15% to 642 billion yen. 
internal forecast is down:
"Japan's largest car maker by global sales expects a net income of ¥1.45 trillion ($14.3 billion) in the financial year ending March 2017, slightly down from its May forecast of ¥1.5 trillion, when it projected net profit to slip by more than a third compared with its just-ended financial year." (WSJ.com)
TM price action: If we look at the Toyota stock, it is actually looking up. The market stalled at 112.50 and retreated, holding under a falling trendline from 2015. The reaction after the earnings report was muted but the disappointing report should put some pressure on TM, and test the resolve of the bulls in this market. 

TM Daily Chart 8/4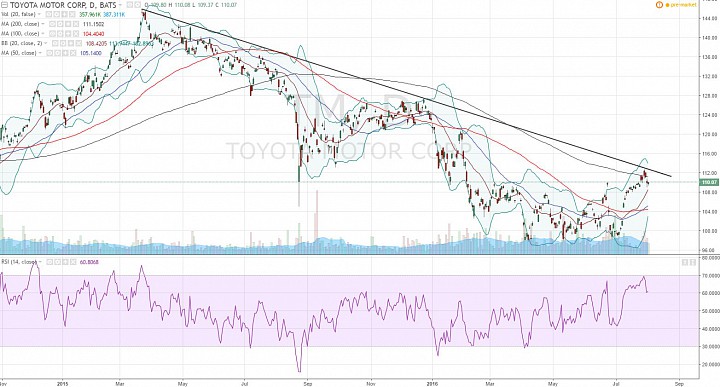 (click to enlarge)

Breakout vs. Resistance:
- TM entered the year bearish, continuing the downtrend from 2015. 
- After finding support just below 100 (around 98), TM consolidated in a range. 
- There was a bullish breakout from the consolidation range in July.
- However, as we turned the month, price held below 113 and a falling trendline.
- While the short-term outlook was bullish, it failed after challenging the medium-term downtrend. 

104 is key:
- The noted consolidation is roughly between 98 and 110. The 104 level is the mid-point or central pivot of this range. 
- A break below 104 should confirm bearish continuation.
- A hold above 104 means the battle is not over between the prospect of a price bottom and the respect of the falling trendline.
- A break above 113 would be needed now to open up a bullish reversafl scenario.