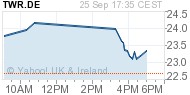 The success of Instagram after its $1bn purchase shows how difficult it is to call a bubble. But we should not expect a repeat of 2000 if there is a downturn
When Facebook paid $1bn (£658m) for Instagram , a popular but small photo-sharing service, in April (LSE: 0N69.L - news) 2012, the word everyone reached for was "bubble".
In some ways, they were entitled to. At the time, Instagram had 13 employees and no plan to make any money. To the untrained eye, it was just one of just a number of interchangeable, faddy smartphone apps whose entire appeal lay in arty image filters that turned bad photos into mediocre ones.
The year before, Rupert Murdoch had offloaded Myspace for $35m 6pc of what News Corp (Other OTC: NWSAL - news) had paid for it and Friends Reunited, another social network that had been obliterated by Facebook (NasdaqGS: FB - news) , had been valued at £5m seven years after ITV (LSE: ITV.L - news) paid £120m for it.
Social media's fickleness was thus at the forefront of many people's minds, while the Nasdaq (NasdaqGS: NDAQ - news) had surpassed 2007's levels to trade at its highest point for 12 years.
Instagram's sale, which valued the service at more than the market capitalisation of the New York Times, seemed like the harbinger of yet another period of dotcom hubris.
If Facebook's purchase was the result of a bubble, though, it's a bubble that's been inflating for some time since. Last week, Instagram announced that some 400m people use it every month ; making it more than 10 times bigger than when Facebook bought the service.
Instagram only introduced advertising in 2013, but...
More