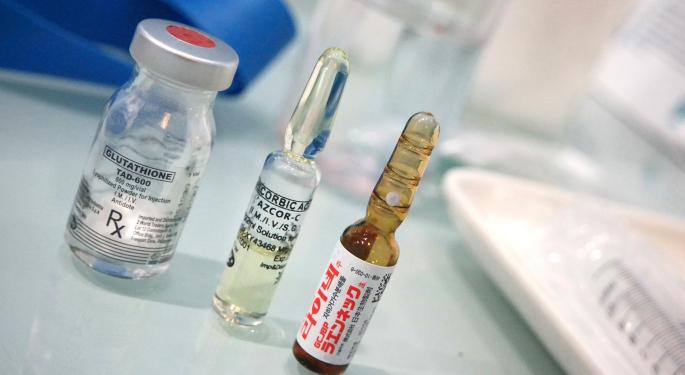 In the past week, Bristol-Myers Squibb Co's BMY 0.72% loss has been Merck & Co., Inc.'s MRK 0.09% gain.
When Bristol-Myers reported back on August 5 that Opdivo did not meet its targets for treatment of advanced non-small cell lung cancer, the stock tanked 16 percent. Merck stock, on the other hand spiked 10.4 percent on the news as investors speculated that the company's rival drug Keytruda could be the big winner.
Related Link: Mizuho Upgrades Valeant, Says Financial Engineering Helped Company 'Outfox The Shorts'
However, the stock's performances have continued to mirror each other ever since, as PreMarket Prep's
https://twitter.com/TripleDTrader/status/765261113126715392/photo/1
pointed out on Twitter.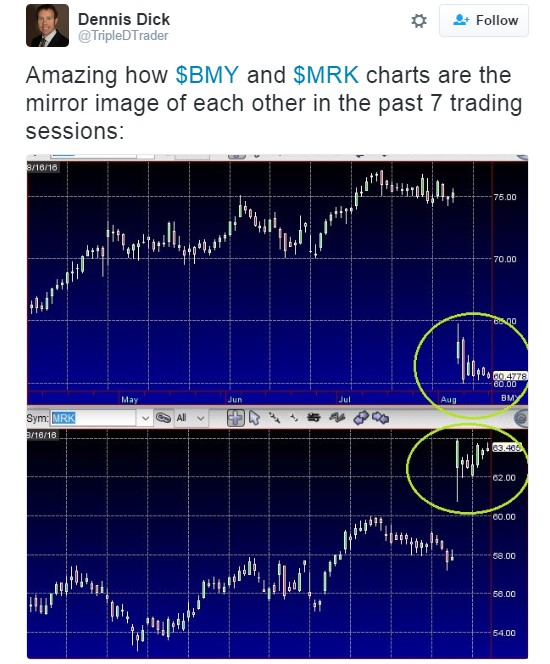 One likely explanation is that a number of traders have been pair trading the stocks ever since the Opdivo news came out. For Now, Bristol-Myers seems to have found some support at the $60 level, but a breakout below $60 would likely push the stock to test the $55-58 level where it found support in late 2015 and early 2016. A Bristol-Myers breakdown could also trigger a breakout in Merck to new highs above $64.
Prior to the August 5 news, Bristol-Myers and Merck had traded nearly in tandem throughout all of 2016, delivering 12.3 and 10.2 percent gains, respectively. Bristol-Myers stock is now down 12.8 percent on the year, while Merck is up 19.7 percent.
© 2016 Benzinga.com. Benzinga does not provide investment advice. All rights reserved.
Source