Sole Collector taps a handful of sports marketing experts to weigh in on adidas's bid for the superstar guard.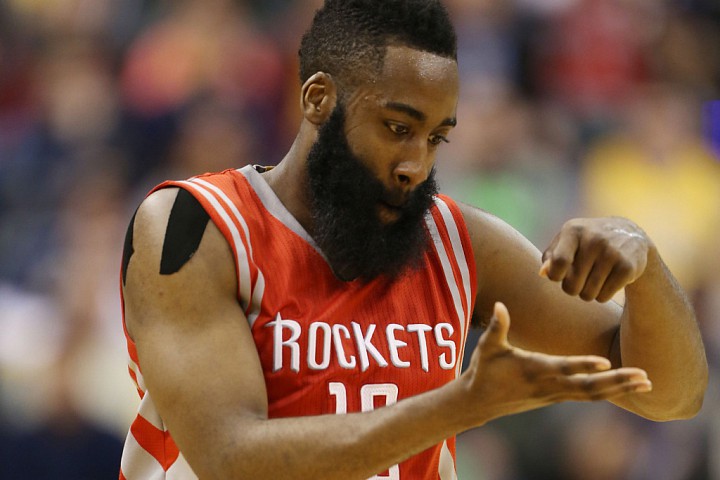 Earlier this month, we reported that adidas offered superstar guard James Harden $200 million USD over 13 years as his contract with Nike reaches its expiration date. Because Nike already has three of the league's top players on its roster, on top of shelling out $1 billion USD to secure the NBA jersey contract, it's unlikely that it will match its rival's bid. As a result, "The Beard" will join the likes of John Wall, Derrick Rose and Damian Lillard as the faces of adidas Basketball. But is Harden worth the money? Does he have the marketing power? Will Nike suffer from this lost? Well, according to The Marketing Arm's Celebrity DBI, an index for brand marketers that determines a celebrity's ability to influence consumers when endorsing a given brand, Harden ranks 825th among trendsetters, "putting him on par with Guy Fieri, Shaun White and Sarah Jessica Parker." Ouch!
To continue the conversation, Sole Collector pulled together a collection of sports marketing experts to weigh in on the deal. Check out an excerpt below, let us know your thoughts, and head over to Sole Collector for the full feature.
Is James Harden worth a $200 million deal?

Rick Jennings, Executive Vice President of PR firm Step 3: In today's market, yes. James Harden is a rising star with a unique look and a personality that transcends basketball. Adidas gets increased awareness for their brand, and another young talented player to add to their roster along with Derrick Rose and Dame Lillard. It's a smart move by adidas.

Courtney Brunias, Associate Director, USC Sports Business Institute: It's a high number. It's at the upper regions of shoe contracts. He's one of the top players in the NBA. When you've reached that level of notoriety, those are the numbers that get thrown around because you bring that impact with you once you reach that level. You've become more than a basketball player, but also a conversation piece. You've expanded just beyond the casual fan, and that adds a bit more dollar value.

Joe Favorito, Sports and Communications consultant, Professor at Columbia University:That's for adidas and the marketplace to decide down the road. They are trying to get back into the individual basketball star game and he is the biggest name out there. The positives are pretty vast; he has a distinctive look, appeals across many demos, will be heavily promoted by the league and the team. He has delivered on the court and has been edgy and fashion-conscious without being overtly controversial. Plus he will be key to market globally, especially in China, where the Rockets have continued to make a splash even after Yao retired. They are obviously banking on a huge upside for years to come.

Bob Dorfman, Executive Creative Director, Baker Street Advertising: Since it's adidas putting it up, I think it's worth the money. If Nike was putting that money up, I would say no. Nike already has the market share. They've already got the stable of successful champion athletes wearing their shoes. Adidas is working from behind and some of the other endorsers that they've shelled out ridiculous amounts for haven't panned out.

With Harden, they've got an iconic player. He's got the beard. He's got the style. Adidas, if anything, is a style-conscious company. A lot of the things they're doing with Pharrell and the music side of the business seem to be working very well. It makes sense to have a guy like Harden. He stands out. He's one of the top players in the league. He's spectacular on the court. Guards seem to do the best selling shoes on the street level.

What can adidas get out of a player like James Harden?

RJ: Great street credibility, a star with untapped global appeal, and the ability to use this partnership with other elite athletes they represent in other sports to unify their brand to casual sports fans around the world.

CB: Adidas needs to look at what attracts consumers to James Harden. Obviously, he has a very unique style of play. His beard and his look are very unique as well. If they can build the marketing around the uniqueness of James Harden, that'll help them differentiate whatever products that are already out there. Whether it's on-the-court stuff or off-the-court stuff, adidas can capitalize on that.

JF: Opportunity and market share. My guess is they see James a breakout star, not just on the court, but with multiple demos, and they need to make a splash. They accomplish all those things with this signing, and now can use this to build for the future with a platform not built around a league partnership but around standout individuals.

I think his look, his potential global appeal, and the fact that the Rockets have worked hard to grow their brand outside of the U.S. makes it special. If this were a startup shoe company or a relic like AND1, there would be much more risk. But you are talking about adidas, so it becomes a bigger win for all involved.

BD: I think adidas would have to play up the style and fashion angle a bit more. The way that James Harden is a fashion icon seems to have a coolness factor that most other players don't have as much. Maybe put him together with someone like Kanye or their other music folks and do something interesting to cross over a bit. There's always been a huge crossover between hip-hop, the music world, and athletes. They can bring that even closer together.
Author: Robert Marshall