Last Friday, USD/CAD came down to test a rising support. I discussed the potential results of a couple of bullish trades within this choppy market. USD/CAD - results of a bullish plan within a choppy market..
USD/CAD 4H Chart 7/18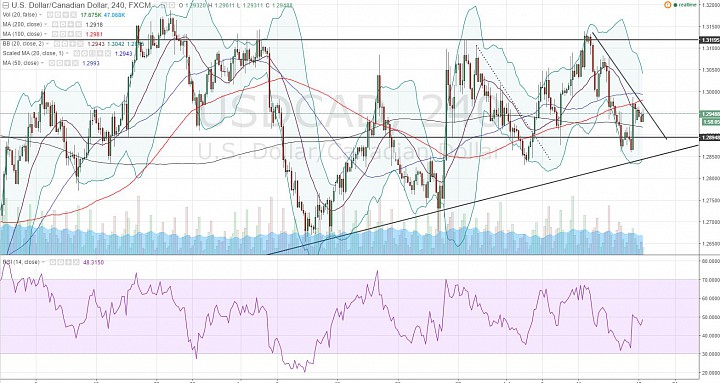 (click to enlarge)
Stop avoided:
With my stop at 1.2818, my last remaining position is still alive after USD/CAD held above 1.2850.
The 4H chart shows that the pair essentially stayed above a rising support as well as the previous support pivot, thus maintaining a bullish bias. 
There was a double bottom above 1.2860, which resulted in a strong push to 1.2985. 
The USD/CAD ended the week revealing the weakness of bears in this market. 
Resistance, targets in bullish scenario: 
While the bears look week after a failure to even test 1.2850, bulls are being tested. 
The 4H chart shows that a break above 1.30 can clear the cluster of moving average, a common pivot area, and a falling speedline. 
A break above 1.30 should be able to liberate USD/CAD and expose the 1.31 area, then the 1.3185 high up to the 1.32 psychological level.
Bearish scenario: 
Right now, the bearish outlook looks limited. 
There is an intrasession support at 1.2925. If this is broken, then we might see another attempt to pressure the critical support area right around 1.2850. 
A break below 1.2830 would clear the rising support, and the previous support pivot earlier in July. It would essentially break the pattern of higher lows, and therefore suggest failure of the bulls.
In this bearish scenario, USD/CAD opens up the lows around 1.25.