KemPharm, Inc. KMPH announced that it has strengthened its attention deficit hyperactivity disorder (ADHD) prodrug pipeline. The company announced that it will develop a new prodrug product candidate of d-threo-methylphenidate (d-MPH), KP484, for ADHD indications. The company's end-of-phase I meeting with FDA for KP415 affirms KemPharm's development plan and potential new drug application (NDA) submission in late 2018.
KemPharm's shares have outperformed the Zacks classified Medical Drugs industry so far this year. The company's shares have gained 20.3% compared with the industry's gain of 8%.


The new therapeutic application- KP484 was developed during a data analysis of the KP415 phase I study, in which KemPharm observed that the prodrug molecule demonstrated an ability to produce a longer duration release of d-MPH relative to comparator products available. Thus KemPharm plans to commence development of KP484 and expects to file an Investigational New Drug (IND) application for KP484 as early as the third quarter of 2017. The company also expects to leverage data from some studies of KP415 to expedite the development of KP484. KP484 is being developed for patients that require a product that provides a much longer duration of treatment for their ADHD. Per the company, KP484's initial data suggest that it can provide considerably longer duration which is in contrast to Shire Plc's SHPG recently approved amphetamine-based Mydayis.
KP415 is an xtended release (ER) d-MPH prodrug product candidate designed for the treatment of ADHD with patients that could benefit from both earlier onset as well as better total duration of effect. After the End-of-Phase I meeting with the FDA, the company plans to develop the commercial formulation of KP415 and initiate the pivotal efficacy study and human abuse liability program for KP415 in the second half of 2017. The company expects to submit an NDA in late 2018. KP415 is the company's highest value prodrug product and one that could potentially capture a significant share of the $13 billion plus ADHD market, once approved. The company believes that KP415 can provide significant points of differentiation in comparison to currently approved products thereby enabling KemPharm to potentially capitalize on key patient prescriber needs.
Thus the successful development of both the products will boost the ADHD portfolio of KemPharm.

KemPharm, Inc. Price and Consensus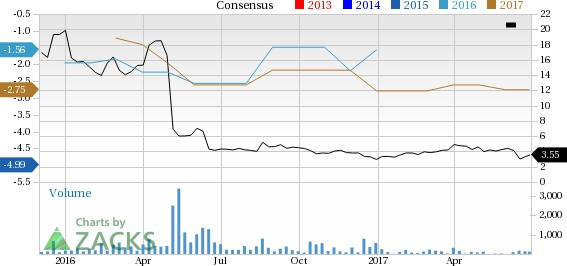 Zacks Rank & Stocks to Consider
KemPharm currently carries a Zacks Rank #4 (Sell). Better-ranked stocks in health care sector include VIVUS, Inc. VVUS and MEI Pharma, Inc. MEIP. Both VIVUS and MEI Pharma sport a Zacks Rank #1 (Strong Buy). You can see the complete list of today's Zacks #1 Rank stocks here.
VIVUS' loss per share estimates narrowed from 50 cents to 39 cents for 2017 over the last 60 days. The company delivered positive earnings surprises in all four trailing quarters, with an average beat of 233.69%. The share price of the company has increased 4.4% year to date.
MEI Pharma's estimates moved up from loss per share of 1 cent to gain per share of the same for 2017, over the last 60 days. The company came up with positive earnings surprises in three of the four trailing quarters, with an average beat of 69.4%. The share price of the company has increased 62.5% year to date.
Today's Stocks from Zacks' Hottest Strategies
It's hard to believe, even for us at Zacks. But while the market gained +18.8% from 2016 - Q1 2017, our top stock-picking screens have returned +157.0%, +128.0%, +97.8%, +94.7%, and +90.2% respectively. And this outperformance has not just been a recent phenomenon. Over the years it has been remarkably consistent. From 2000 - Q1 2017, the composite yearly average gain for these strategies has beaten the market more than 11X over. Maybe even more remarkable is the fact that we're willing to share their latest stocks with you without cost or obligation. See Them Free>>
Want the latest recommendations from Zacks Investment Research? Today, you can download 7 Best Stocks for the Next 30 Days.
Click to get this free report
VIVUS, Inc. (VVUS): Free Stock Analysis Report
Shire PLC (SHPG): Free Stock Analysis Report
MEI Pharma, Inc. (MEIP): Free Stock Analysis Report
KemPharm, Inc. (KMPH): Free Stock Analysis Report
To read this article on Zacks.com click here.