The launch of QE in early 2015 was supposed to push Europe's economic growth on a sustainable growth trajectory. Unfortunately, according to the latest Eurostat data released hours ago this did not happen, and instead Q3 GDP in the Euro Area missed expectations of a 0.4% increase, rising 0.3% higher than in the three months to June, and 1.6% higher than in the third quarter of 2014. The quarter-on-quarter growth rate was down from 0.4% in the second quarter, and translates into an annualized growth rate of 1.2%, the weakest since the third quarter of last year.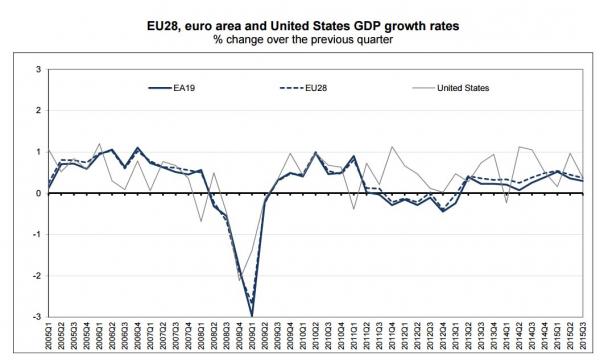 Well, that's what more QE is for, as well as negative rates: because if something can fix Europe it is doing more of whatever didn't work in the first place, at least according to the ECB.
According to the WSJ, "the slowdown means it will take longer to reduce the eurozone's very high unemployment rates, and use up other forms of spare capacity in the economy. That will in turn give businesses little reason to raise their prices." Which in turn means more deflation, which means even more QE, which means even more deflation, and even higher asset prices, rinse and repeat.
What is more curious is where the weakness came from: surprisingly, it was broad based and pronounced led by Germany, the currency area's exporting powerhouse, while Italian economic growth also eased. There were fresh contractions in Greece, Finland and Estonia, while Portugal's economy stagnated.
Here is the chart showing the best and worst European economies in the third quarter, or as Mario Draghi would call it, just the greenlight he needed to unleash even more QE.