US Consumer Prices (CPI) missed expectations MoM with a mere 0.1% rise (half the expected 0.2% rise). Core CPI (ex food and energy) rose just 0.1% - its weakest growth since Dec 2014 with the biggest drivers being a 5.6% plunge in airfares - the biggest drop since 1995 and a 0.3% surge in 'owner equivalent rents' driven by lodging. Gas prices rose for the 3rd consecutive month (unequivocally good?) but new and used car prices tumbled.
Core CPI rose at slowest pace since Dec 2014...
As Airfares collapsed at the fastest pace in 20 years..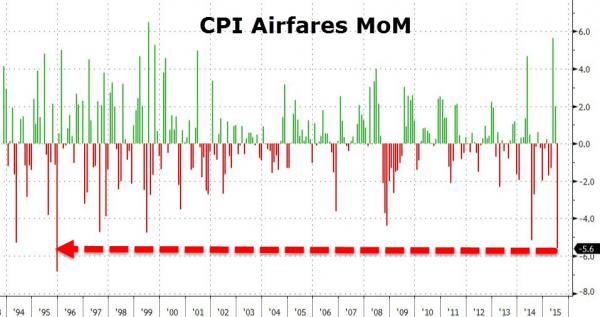 Breakdown...
The index for all items less food and energy increased 0.1 percent in July following a 0.2-percent increase in June. The shelter index rose 0.4 percent, its largest increase since February 2007.
The indexes for rent and owners' equivalent rent both increased 0.3 percent, while the index for lodging away from home increased 2.5 percent after falling in May and June. The apparel index also turned up in July, rising 0.3 percent after declining in each of the last 3 months. The index for medical care rose slightly in July, increasing 0.1 percent, with both the medical care services and medical care commodities indexes advancing 0.1 percent. Several indexes were unchanged in July, including those for personal care, recreation, alcoholic beverages, and tobacco.

 

The index for airline fares declined sharply in July, falling 5.6 percent, its largest decline since December 1995. The index for used cars and trucks fell for the third month in a row, declining 0.6 percent, and the index for household furnishings and operations fell 0.2 percent, also its third straight decline. The new vehicles index, which had increased five months in a row, also fell 0.2 percent in July.
*  *  *
This is not what the Fed ordered but is not bad enough to warrant a hawkish tone.