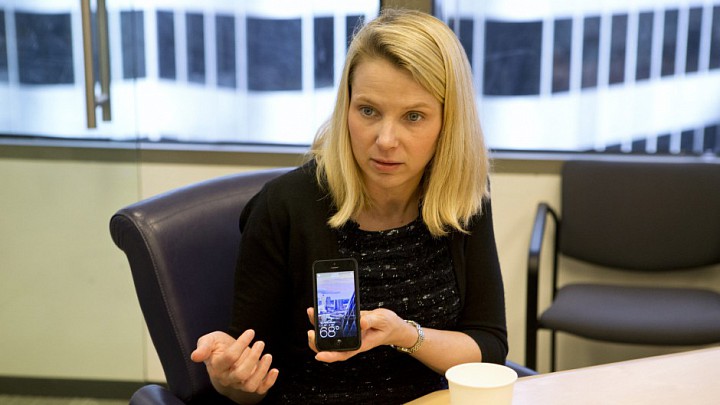 Following the two-year renovation of Yahoo brought on by the arrival of Google genius Marissa Mayer as their new CEO and the promise that caused Yahoo's market share to climb out from the NYSE basement, there's new hope in the wake of the Alibaba sell-off. It could be argued that, earlier this year, prospects at Yahoo looked dimmer than at any time since Carol Bartz was unceremoniously fired via phone call. But Jerry Yang's one-time-giant seems to be swimming upstream with the vigor the tech world expected when Mayer took the helm. What's next on her agenda? Snapchat.
For many who had worried that the Yahoo board hadn't felt the urgency Mayer and Wall Street had been feeling to make a change, it must have been difficult not to sympathize with a woman who seemed to have been dragging an internet company, kicking and screaming, into the 2010s. On Mayer's schedule in the first half of this year? Apps. Still behind on mobile technology, one of the world's most talented CEOs, at the helm of one of the world's most iconic internet companies, had to publicly announce her intention to get her company "good at mobile" in the year 2014.
"Good at mobile"? It sounds like a dispatch from the era of the brick car phone, almost reminiscent of President Bush talking about "the Google" in a 2006 interview where he admitted he couldn't remember the name of "the program" with "the maps".
As 2014 goes on, however, Yahoo lives on to its promise to get good. Over the past six months the Yahoo (YHOO) stock has soared 20 percent. News about the IPO correlated with market jolts for Yahoo. Now the speculation about what Mayer would do with the Alibaba windfall is starting to give way to actual moves. It's wholly plausible that with less than one percent of the new fortune, Mayer can buy up Snapchat.
Questions already arise to whether it's worth it. Despite the relatively low price they'll pay, Snapchat has no advertising – at least not yet. But as users wait to see their soon-to-disappear picture or video – their snap – they're captive. The potential for ads is certainly there. But in an era of targeted advertising, Snapchat has its hands tied by the Federal Trade Commission who, earlier this year, found the app maker guilty of spying on users, dishonest advertising, and hoarding of data that compromised 4.6 million Snapchat users when their personal information was leaked online. Unable to collect content from phones, there are real questions as to how lucrative potential advertising can be. And with Snapchat's refusal, last year, to sell to Facebook for $3 Billion, Yahoo can expect to take negotiations into the double-digits.
All that aside, the promise of untapped potential in a take-off start-up like Snapchat, founded by a group of college students at Stanford (not completely unlike Harvard-born Facebook) is sexy. While the technology is mimic-prone and the path to successful ad-buys are winding, the established name and widespread use of the app and a generally youthful target audience for it provide great hope that, as long as it evolves in quality, Snapchat can remain king and Yahoo can lay claim to empire once again. Turns out her Her Majesty could be exceeding expectation to get "good at mobile" after all.