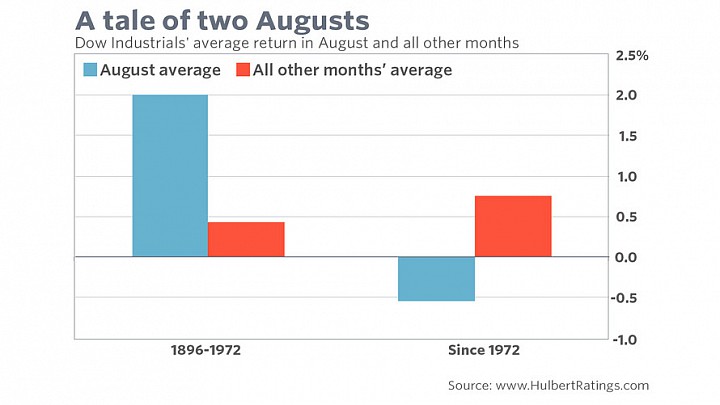 Here's how to make August the best month of the calendar for the stock market: Just ignore the past 50 years.
It's that simple: Prior to the early 1970s, August was far and away the best month of the year for U.S. stocks. From 1896, when the Dow Jones Industrial AverageDJIA, -0.02% created, until 1972, the Dow's average gain during August was 2.0% — versus 0.4% for the average of the remaining 11 months. This difference is significant at the 95% confidence level that statisticians often use to determine whether a pattern is genuine.
There's just one catch: It's just as easy to transform August into one of the worst months of the year. All you have to do is focus on the years since the early 1970s. August's average return since then has been a loss of 0.5%, versus a gain of 0.8% for the remaining months (see chart above). This difference is also statistically significant.
What this means for those commentators who, in recent days, have extended their gaze back only a couple of decades and reported that August is one of the worst months of the year: Had they been using the same methodology in 1972, they would have reported — with the same degree of statistical justification — that August is the best month of the calendar.
This is a great illustration of how statistics can be misused: Not only must an indicator have a good track record in order to make it worth following. There also should be a sound theoretical explanation for why it should exist in the first place.
See also: Why this presidential election is a plus for stocks