Yellen stuck mostly to script when speaking in front of congress today, noting issues in the labor market, and low inflation.
She did add some emphasis on the disappointing recovery in the housing sector. Her concern reveals her dovish bias, as she said the Fed will likely have to remain accommodative because of these concerns.
Traders might not have much to go off of today's testimony, but were reminded that Yellen is dovish - a widely known fact already.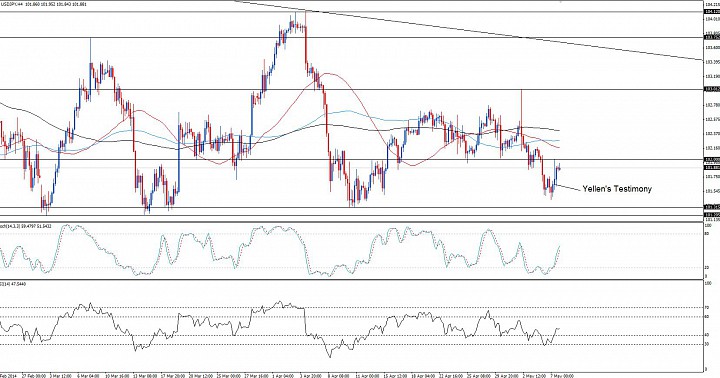 (usdjpy 4h chart, 5/7)
The USD/JPY held above a key consolidation support area between 101.20 and 101.31. After the Yellen testimony, the USD/JPY was able to tag 102.
The oscillators are swinging back up as well. If the market can hold above 102 through the 5/8 session, there is a chance to revisit the 102.70-103 area, a common resistance going back to late January. 
Otherwise, USD/JPY still looks poised to test the 101.20-101.31 low, especially if the RSI remains below 60 in the 4H chart.